NateBlack | Nov 14, 2012 | Comments 5
Update: 80 Moar Photos Of Alexandra Markina
If you've been following along then you have already seen us feature Russian models Yana Yatskovskaya and Kristina Milkanova Krayt, so you know that today we'll be featuring yet another exotic Russian bombshell from the Eastern Block's social media network, V Kontakte (VK) that I found on Tumblr.
This week I spent some time learning about a model that's very recently "gone viral," and  this 19-year-old goes by the name Alexandra Markina. Her full name is Alexandra Kharitonov, and she's also known by other aliases including Sasha "Lashes" Markina, Sasha Markina and "that hot Russian girl from Tumblr."
Alexandra's work blew up recently, thanks to a photo shoot and behind the scenes video that photographer Alex Tikhomirov did for his apparel and accessories company. The video has over a million views on Vimeo (which is pretty damn rare), and both the photos from the shoot, and the products the images were used for have amassed a ton of web popularity. You'll see the photo of Alexandra pulling her shirt up, as well as the iPhone cover and t-shirts that the image was used for below.
Alex Tikhomirov's work has already been highlighted on websites like The Chive, and you can buy his NSFW stickers, t-shirts and hoodies from various Russian websites, as well as NSFW iPhone & iPad accessories from a fucked up Russian Apple online accessory store.
Alexandra has of course done other shoots, and worked with other photographers, but nothing has taken off quite like this particular body of work. Much of that is because Miss Markina is really just coming into her own as a model, having just done this a few short years, there is a marked difference between her recent work (blonde hair) and her early work (dark hair).
If you're all up in the VK (and I know you're not), you can find Markina on her VK profile page, and she also has an Ask.fm account. For more from Alex Tikhomirov you can find him on his VK fanpage, Facebook fanpage and Tumblr.
Alex Tikomirov Behind The Scenes With Alexandra
Kazantip Life aka Tikhomirov B-Roll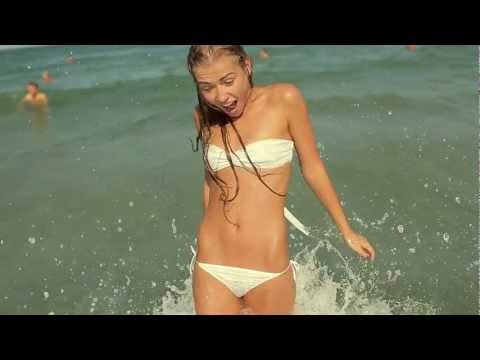 Links from around the web:
Filed Under: Women & Relationships
About the Author: NateBlack is doin pretty good as far as geniuses go. Arrogant, insightful, and humble, Nate possesses one of the most dangerous minds of our generation. Stay tuned for More News, Re-Posts, and Originals from this modern day scholar. *If any of you are interested in writing for LDU contact 'Nate Black' via Facebook or nathan@lionsdenu.com*
Comments (5)