TheCoach | Feb 20, 2010 | Comments 0
The way the Woman's Hockey team is playing, realistically can any team (even the States) give them a run for the Gold Medal? Sweden knocked off U.S. in 2006 and the States will be looking to avenge that loss, but Canada thumped the World's 3rd ranked team (the Swedes) 13-1… gat-damn!! Also, Renner looks replicate her podium finish from Turin, with a little help from Chandra Crawford.
Woman's Hockey

Can anyone stop Canada?
It was the biggest shock in the history of Woman's Hockey. Yeah, back in 2006′ when Sweden gave the States a good ol' bitch slap in Turin. The two-time defending champs (Canada) are more likely to face Finland in the semi's and have U.S. face off against the Swedes again. If in fact it plays out this way (as it should), the question will be thrown out right until the puck drops…"Can the Swedes do it again?"… TheCoach is pretty positive no one can give Canada's woman's team a run for their money but everyone will be curious to if it will be the rivalry vs. the States in the final, or a cake-walk against Sweden like four-years ago. The American's have Mark Johnson coaching the woman's team (he played on the Men's USA team the edge to produce another "Miracle on Ice"? I'm quite sure you'll be seeing the most predictable Olympic Final in sport, Team Canada vs. Team USA… but I'll tell you right now, the States will need a miracle.
Cross-Country Skiing – Woman's Team Sprint

Renner and Crawford – Canada's Country Girls
Sara Renner and Chandra Crawford will be looking to get more medals for Canada, similar to they way they did in Turin but this time as teammates. Renner, who in 2006 was competing in the team-spring when her skin pole broke. The Norwegian coach Bjornar Hakensmoen gave Renner one of his teams extra poles and Renner and her teammate at the time, Becky Scott went on to earn Silver. Henner was thankful for Hakensmoen and gave him a bottle of wine as a thank you gift… all of Canada was thankful as we donated 8,000 cans (yeah, there was a ton per can) of maple syrup. Hope the Norwegian's like pancakes!! Chandra Crawford on the hand won gold in Turin in the individual 1.1 km Cross-Country Sprint, surprising all of Canada (she was not a favourite going in). She's been doing cross-country since the age of 16, and prior to was training to be a biathlete. If you watched Crawford sign her national anthem after winning gold in Turin, commentator Brian Williams said "If you're ever standing on the podium, this is how you thing the national anthem." Let's hope her belting out our anthem yet again.
Babes Of The 2010 Games
Events Of The Day *Represents If A Medal Is Available
Ski Jumping – LH (Long Hill) Ski Jumping *
Cross-Country Skiing – Men's Team Sprint & Woman's Team Sprint *
Figure Skating – Ice Dance *
Freestyle Skiing – Men's Aerials
Hockey – Woman's Semi-Finals (Canada in Action)
Curling – Men's and Womans Curling
Video Courtesy Vancouver2010.com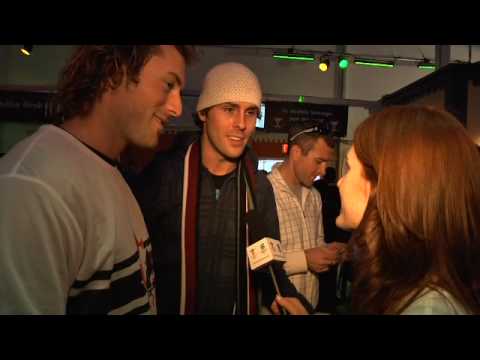 Links from around the web:
Filed Under: Sports • TheCoach's Vancouver 2010 Olympic Guide to Canadian Gold
About the Author: TheCoach knows his stuff. Now you can either utilize the knowledge, or regret that you didn't.
Comments (0)