TheCoach | Feb 19, 2010 | Comments 1
Cindy Klassen has one of the most heart-breaking stories in the history of sport. For her sake, I hope she gets a medal. She deserves it more than anyone else… find out why below. Also, Canada vs. USA… it doesn't get much better than this. Eh' Oh' Canada Go'

Long Track Speedskating – Woman's 1500 Meter


Cindy Klassen – A Heartbreaking Story (Article Courtesy Toronto Star – Feb 07 2008)
The sister of Olympic skating champion Cindy Klassen lay in a hospital here yesterday, a day after her sport utility vehicle plunged over a highway railing and through the ice of the Red River.
Lisa Klassen, 23, was under water for about five minutes Tuesday until off-duty firefighter Dale Kasper ran down the bank, smashed her side window and gave her CPR until an ambulance arrived.
Another man, Toby Tukaluk, jumped into the water as well and helped free Klassen from her seat belt with a large knife.
A hospital spokesperson said Klassen's condition had been upgraded to stable from critical.
"We want to thank the public for their concern and support," the Klassen family said in a statement.
Klassen's grandmother, Hulda Hirsch, told CTV's Canada AM that Klassen's condition had stabilized.
"She cannot speak but she thinks and she understands."
Kasper was waiting in his car to get onto the highway when he saw Klassen's SUV slide out of control and flip over the guardrail.
The Jeep Liberty had flipped during the 20-metre fall, and the impact cracked the thick ice.
Witnesses pointed to a large buildup of snow along the shoulder on the bridge, which appears to have acted as a ramp, allowing the vehicle to jump the guardrail.
The province responded yesterday by ordering highway crews to look at snow buildup on bridges.
-Toronto Star
Since then, Klassen sister has recovered from the event, but Cindy, know as the Golden Girl of Canada, went from the ultimate success, to her sister's accident and would like nothing more than a medal to take back how to her sister who she took a season off to spend time with while she recovered. Klassen, you are a true Canadian in all of our eyes, regardless of you're performance in Vancouver, you are still our Golden Girl.
Men's Hockey


Canada vs USA – Red, White and BOOO!!
You know, TheCoach isn't about bashing our southern neighbours. But I am about to make something clear. Call it my Olympic Rant if you will because about the only thing we have, is beer and hockey. The U.S. Military makes
ours look like like a bunch of toy soldiers (but I support our troops), Obama makes Stephen Harper look like the kid you gave a wedgie too in high school. They have Jack Nicholson, we have Donald Sutherland, along with the NFL compared to the CFL…need I say more. They stole Neil Young, they stole Wayne Gretzky, gat-damnit they stole Pamela Anderson!!! They have 304 million people, we have 33 million. But we have beer that isn't watered down like you've put ice-cubes in it and our hockey team is the best in the world. Period. Yeah it will be amazing to see the Ovechkin-Crosby show and I am hopeful it happens in the final on the last day of
the Games. Until then, it's time for Canada to bounce back as a nation after our horrible loss in the World Juniors. Back in 96′, the States team of Mike Modano, Brett Hull and Chris Chelios proved that the U.S. weren't a team to take lightly. I'd say from the Brawl of 96′ (see video below) forward, our red-blooded desire turns to a cold sweat when we see that USA jersey. In 2002, all that blood, sweat and tears paid off (see video below) as we won gold, and we won't talk about 06′ in Turin when we placed 7th… for that matter, we won't talk about the past at all… as all eyes will be on the fiercest rivalry in sport. We HAVE to win, after all, if we don't all we have left is maple syrup and Celion Dion. Oh' and beer. And as a fan, unfortunately the game is out of our hands, so the least you can do is chugabeeranenjoythegame.
Brawl of 96′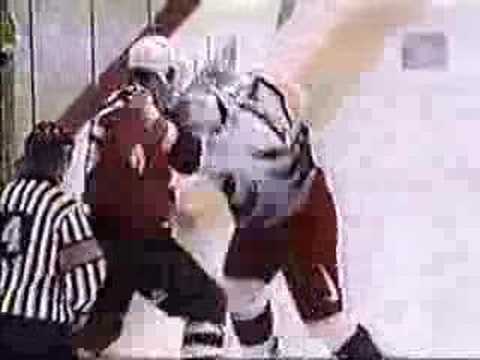 2002 Gold Medal Game.. (if this doesn't pump you up.. you aren't Canadian)
Big Events Of The Day *REPRESENTS IF A MEDAL IS AVAILABLE
Alpine Skiing – Men's Giants Slalom *
Biathlon – Men's 15km Mass Start & Woman's  12.5km Mass Start *
Bobsleigh – Two Man *
Long Track Speedskating – Woman's 1500 Meter *
Freestyle Skiing – Men's Ski Cross *
Curling – Men's & Woman's Curling
Figure Skating – Ice Dance
Hockey – Men's Hockey (CANADA VS USA)
Video Courtesy Vancouver2010.com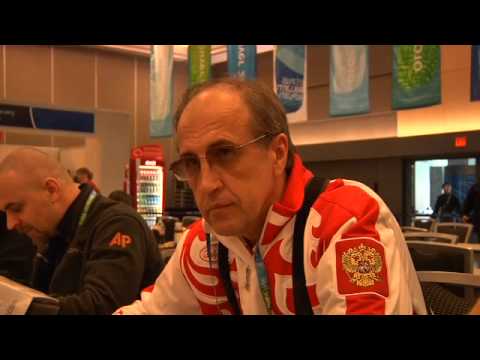 Links from around the web:
Filed Under: Sports • TheCoach's Vancouver 2010 Olympic Guide to Canadian Gold
About the Author: TheCoach knows his stuff. Now you can either utilize the knowledge, or regret that you didn't.
Comments (1)