TheCoach | Feb 26, 2010 | Comments 0
In the final day of the Vancouver 2010 Games, the Men's 50km Mass Start in Cross-Country starts off the day, followed by the gold medal game in Men's Hockey. Only two events on the final day and all eyes will be on Hockey… at least until the closer ceremonies and the flame is put out for good.
Cross Country Skiing – Men's 50km Mass Start

A Marathon … On Snow
Sounds boring as hell doesn't it? Well, it may just be a great and exciting finish to the Games. At the FIS Nordic World Ski Championships in 2009 (held in the Czech Republic), the 50km Mass Start in the Men's Event might have been the closest and best race the Championships had to offer. The race was an exciting one in which the lead was different at every interval mark on the official report. At the 12.5 km mark, the three leaders were Austria's Christian Hoffman (he would finish 25th), Russia's Alexander Legkov (he would finish 18th), and France's Jean Marc Gaillard (he would finished 23rd). By the 20 km mark, the top three were Italy's Pietro Piller Cottrer (who would finish 11th), his teammate Christian Zorzi (would finish 12th), and Russia's Vylegzhanin. The top three at the 27.5 km mark were Zorzi,Switzerland's Curdin Perl (who would finish 27th), and his teammate Remo Fischer (who would finish 19th). With 7.5 km left in the race, the top three were Fischer, Norway's Tord Asle Gjerdalen (who would finish 20th), and 2006 Winter Olympic 50 km gold medalist Giorgio Di Centa of Italy (who would finish fourth). Northug, seventh at the 42.5 km mark, would win his third gold medal at the championships and fourth overall. It was Vylegzhanin's first world championship medal and Angerer's sixth career medal. The top 19 finishers all competed the course in under two hours while the top 22 finishers were separated by no more than 26 seconds at the finish. During the event, Angerer had to change skis but still placed 3rd. Should be an interesting race… long, but hopefully interesting.
Gold Medal Game – Gold Or Bust For Canada
As I currently type this up, Canada just beat Germany 8-2 and the Swiss narrowly got passed Belarus, Latvia just pushed the Czech's into overtime and Norway was tied 3-3 with Slovakia going into the 3rd period.  Proof that the Men's game is head and shoulders above the Women's as far as talent internationally. With that being said, Canada beat Russian in the quarterfinals, the States moved on past the Swiss, but the Czech's and Swede's lost to the Fin's and Slovak's setting up a Canada-Slovakia matchup and USA-Finland. Regardless on who is playing in the gold-medal game to close on the Olympics, I will blog as to why Canada as a country will feel the games were a complete disappointment if we don't win gold in Men's Hockey. Yeah, we hit double digits in medals, we won our first gold on home-soil, we are up in the top
of the ranks for gold-medals (not overall medals) and we have a lot to be proud of but closing out the Olympics with a Gold Medal loss, or for that matter, not even making an appearance will not sit well from the Vancouver Islands, right out to the Maritimes. The first things we saw in the games was Jennifer Heil narrowly missing gold, followed by Alexandre Bilodeau winning out first Olympic Gold. It bought a nation closer together and was a heart-warming story considering his brother, who has cerebral palsy, is his main inspiration. Some cheered, some shed tears, some caught the replay over and over. Commercials were made, music interludes were put together to the song "I Believe" within seconds…. but none of that will matter if Canada can not win gold in Men's Hockey. Of course, for decades to come, Bilodeau's moment will be a legacy in Canadian sport but the entire nation rallies around our Hockey Team. Hockey is Canada's game and we havn't as Canadian Hockey fans, been able to celebrate a Stanley cup since 1993 in our nation. In 2002, it was our first gold medal in 50+ years in the Olympics, only to be followed up in Turin 2006′ with a 7th place finish. The only way these games will have a climatic finale… is if Canada is playing for gold.
Sidney Crosby needs to lead HIS team to Olympic gold and Martin Brodeur needs to continue to ride the pine on the bench while Roberto Luongo plays in his NHL home-rink with many of his die-hand fans watching. Luongo
lives for this moment. He is younger and may not have as much experience as Brodeur but has plenty and enough to be in net for the rest of the Olympics. Neidermeyer needs to as well lead so Crosby can have some of the weight lifted off his shoulders, but ultimately Canada needs to capitalize on ALL their chances if they want any chance at beating Russia or any other powerhouse for that matter. If opportunity is knocking, and you fail to answer the door, you don't deserve to win. Something to keep in mind; In the three previous Olympic Gold Medal games, it has been six different countries who have fought for gold. 1998, was the Czech's beating Russia 2-1 when Canada lost in a memorable shoot-out to the Czech Republic in the semi's  and went on to lose Bronze to Finland. In 2002, we all remember the 50-year draught that was ended when Canada beat the States 5-2. Joe Sakic captained the team, while Russia beat Belarus for the Bronze after Belarus stunned Sweden in the Quarterfinals. 2006, Sweden knocked off Finland 3-2, while Canada lost to Russia in the quarterfinals and placed 7th overall in an Olympics everyone would like to forget as far as Men's Hockey is concerned (at least for Canada). So six different teams.. and their won't be eight different teams now that the Slovaks are the only team left who hasn't been in a gold medal game since NHL players were introduced… their path will be through the Canadians… good luck
Events Of The Day *REPRESENTS IF A MEDAL IS AVAILABLE
Cross-Country Skiing – Men's 50km Mass Start *
Hockey – Men's Hockey (Gold Medal Game)
CLOSING CEREMONIES
Video Courtesy Vancouver2010.com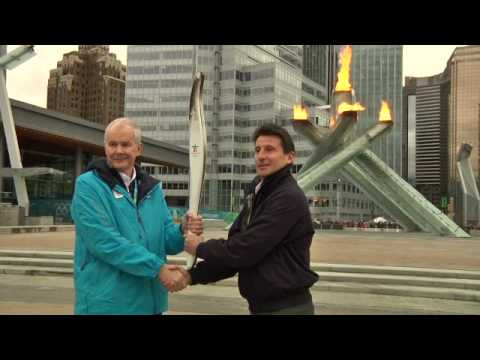 Links from around the web:
Filed Under: Sports • TheCoach's Vancouver 2010 Olympic Guide to Canadian Gold
About the Author: TheCoach knows his stuff. Now you can either utilize the knowledge, or regret that you didn't.
Comments (0)