TheCoach | Sep 20, 2011 | Comments 0
Brittney Palmer is best known for being an UFC Ring Girl, but she's got plenty more talent than holding up 'round cards' and showing off her stunning figure in the Octagon! Brittney is an extremely talented self-taught artist, host events and shows on TV, is quickly becoming one of the most recognizable models in the industry and before she broke into the UFC, was one hell of a dancer, doing Burlesque on the Vegas Strip.
#BrittneysGotTalent!
Easy on the eyes with a girl-next-door features, free-spirited and listens to Zepplin', and she's got a crazy side shown by spending her free time catching waves, hitting the slopes, and jumping out of airplanes.
While there's been much controversy in the MMA world surrounding Brittney in the recent months regarding her employment with the UFC/ZUFFA, don't worry fans… Brittney explains in the interview she's going no where and you'll see her back on your TV screen at UFC's, as well as many other endeavours.
One of them being her 2012 calendar, set to be sold on her website shortly. Keep an eye out for it but in the meantime, Brittney has been teasing fans with sneak peaks via her Twitter Account <— Follow Her.
If you're anything like us (and you are), you can't get enough Brittney…
… So we've got you covered!
Check out her Website, Facebook, Twitter and UStream
Brittney is RAD!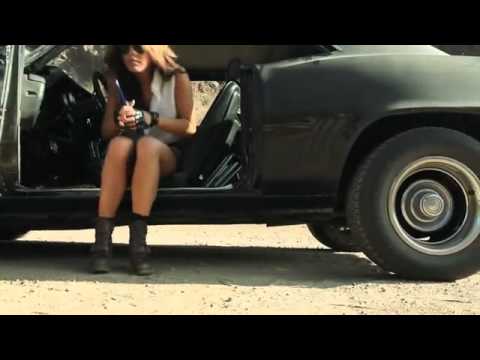 MMAtheletics Feature
Interview with Brittney Palmer
Who are you?
I was born in San Diego and moved to Las Vegas as a baby with my family. I began modeling and working in Las Vegas's entertainment world straight from high school. I first began as a ring girl for boxing matches at The Hard Rock Hotel and Casino, followed by the WEC. When UFC acquired WEC, I became a member for the UFC organization. I'm also an artist, following my passion for painting that I've had since I was little. I'm currently attending art school in Los Angeles. I'm a self taught artist and I want to advance my craft.
Self taught and talented! What is your ethnicity / background?
My dad's parents are from England and my mom's side is French, Scottish, Irish, and German. I was born in San Diego and moved to Las Vegas when I was two.
When and how did you get into modeling?
Directly out of high school, I started working as a ticket broker for several shows in a Las Vegas theatre. I saw models dressed as show girls offering tickets on Las Vegas Boulevard, and I really wanted to wear those fantastic costumes. Once I found out how much they made, the decision was made for me. I then started working as a magician's assistant for his shows, which then brought the opportunity to work as a dancer in a burlesque show. During this whole time I was also working as a print model. You can still see some of the billboards I shot 6 years ago on The Strip!
You used to be a featured dancer in the Burlesque X show at the Flamingo Hotel in Vegas. Do you ever miss it?
I miss being on stage and entertaining a large crowd. I don't miss doing a show 8-10 times per week.
With so many girls competing to do the same thing, what do you think has made you stand out from the rest?
I think my attitude is my biggest asset. I never take no for an answer and I always try my hardest. I also have found that being easy to work with ensures that people want to work with you.
[Editors Note: Brittney was a pleasure to work with and we at Lions Den U are honoured to feature her]
You started off in the 'WEC' and are now a UFC Ring Girl. Did you ever expect to break it this big this early in your career?
It's funny. I never thought, when I started as a ring girl years ago at The Hard Rock, that I would end up on the biggest stage as a ring card model. I've been fortunate to have done several different things in the entertainment business already.
There was a lot of commotion after you weren't at UFC 133, with websites saying you got fired by ZUFFA/UFC before Dana set things straight via Twitter. Did you want to comment on that at all, or was what Dana said enough?
Those rumors got out of hand! I'm still with the UFC, I'm just taking some time to attend classes in art school. You'll see me ringside again soon!
Great!! What do you like most about working with Arianny Celeste, Rachelle Leah and Chandella Powell?
I feel like we're in our own sorority and we're very close. It's fun to know that there's only a small group of us Octagon Girls and millions of UFC fans out there!
Do you have any fighters that are your favourites?
Kenny Florian and Urijah Faber.
Do you train for MMA at all yourself or enjoy any other sports?
I have trained MMA in the past, but I prefer surfing. I surf almost daily now that I live in Southern California, as well as hitting the gym, running stairs, hiking, and biking.
On your website it stays you like to spend free time cresting waves, hitting big air on the slopes and jumping out of airplanes. Would you consider yourself a big daredevil?
Yes! I love the adrenaline rush of doing fun things like that.
What's the craziest things you've ever done?
Night time surfing and sky diving. Surfing at night is freaky because you can't always see the waves coming in and I always think a shark is coming to show up out of nowhere. And what's not crazy about jumping out of a perfectly good plane?!
We hear you're a Led Zepplin fan, what's your favourite song(s) by the them?
I love them! Dazed and Confused, Going to California, and Whole Lotta Love are my favorites.
All great tunes. It's known you spend a lot of time listening to Zepplin while you paint in your studio. Where can we see some of your work? Is it available for purchase.
My current collection is a collection of iconic pop images and portraits of influential people from the 1960′s, '70′s, and '80′s that inspire me. You can chek them out at www.brittneypalmer.com. I also post photos regularly on my Facebook and Twitter.
If you wrote an autobiography about yourself what would it be called?
Stone Free. That's the first song Jimi Hendrix wrote and I'm a free spirit, so I don't like to be held back. I even have the words "Free Spirit" tattooed on the back of my neck in Arabic!
Where can we see more of Brittney Palmer in the future?
My calendar comes out soon, and I'm looking to work as a host more often. I had a blast working with "The Daily Habit" recently, and I really want to do more of that.
Do you stay in contact with your fans via Facebook and/or Twitter?
What's the best way for them to stay in contact with you? Absolutely! I think that I'm very connected to my fans, and sites like facebook, twitter, and my website make it easier.
Other than future UFC events, and your website/social networking sites, where can we see more of you in the future?
I'm coming out with a 2012 calendar in a couple of months, as well as a clothing line through Jakt Apparel called Stone Free. And hopefully you'll be seeing me hosting again on TV soon, just as I did for Fuel TV during the US Open of Surfing last month.
We will be watching for it and can't wait to see you back in the Octagon! Best of luck in Art School and thanks for your time Brittney! 
Links from around the web:
Filed Under: Women & Relationships
About the Author: TheCoach knows his stuff. Now you can either utilize the knowledge, or regret that you didn't.
Comments (0)