TheCoach | Jun 01, 2010 | Comments 2
Click Here To View TheCoach's Record For All UFC's, Weight-classes and Fighters

Main card
Welterweight bout:

Carlos Condit (24-5-0)
vs.
Rory MacDonald (10-0-0)
Fight Style:
Condit – Muay Thai, Kickboxing, Boxing, BJJ
MacDonald – Brazilian Jiu Jitsu, Boxing
| | | | | | | |
| --- | --- | --- | --- | --- | --- | --- |
| Condit | | | | MacDonald | | |
| 29 fights | 24W | 5L | | 10 fights | 10W | 0L |
| By knockout | 10 | 0 | | By knockout | 4 | 0 |
| By submission | 13 | 3 | | By submission | 6 | 0 |
| By decision | 1 | 2 | | By decision | 0 | 0 |
Loading ...
Carlos 'The Natural Born Killer' Condit fought in eight different organizations compiling a record of 12-1, with the loss coming at the hands of Carlo Pratter via submission (Condit would later scratch that loss of his record in WEC with a victory over Prater). At 12-1, Condit competed in 'Rumble on the Rock' (ROTF) in his next four bouts and went 3-1 with a victory over Reneto Verissimo and MMA vet Frank Trigg via triangle arm-bar but it was Jake Shields that handed him another loss at 'ROTF 9′. After his stint in ROTF, Condit lost a bout against Pat Healy at Extreme Wars 3 but was still picked up by the well-known Japanese organization Pancrase. 'The Natural Born Killer' fought in three fights during his time in Pancrase, winning all three (two by TKO, one by submission). The UFC's sister promotion (also owned by Zuffa.) took notice and swiped up the up-and-coming submission specialist who paired it with his knock-out power. Condit fought all five fights in the WEC against Kyle Jenson, John Alessio, Brock Larson, Carlo Prater and Hiromitsu Miura. He won the vacant WEC Welterweight Championship in his fight against Alessio and defended it successfully three times before he left for the UFC. In his octagon debut he headlined UFC Fight Night: Condit vs Kampmann lost a split decision before winning a split against Jake Ellenberger at UFC Fight Night 19. Condit will be 
looking to hand Canadian Rory MacDonald his first loss as a professional, whether he can do it or not remains the question. Regardless, I am expecting an extremely entertaining fight.
Rory 'The WaterBoy' MacDonald is a 22-year-old mixed martial artist, who will be representing his homeland when he fights Carlos Condit at UFC 115 in Vancouver, Canada. MacDonald was born in Quesnel, B.C. (approximately 400 miles from Vancouver), is undefeated at 10-0 and certainly doesn't want to suffer his first loss in front of his fans but does have his hands full with 'The Natural Born Killer'. He no question will be facing his most challenging fight. MacDonald made his professional debut at the age of sixteen winning against Terry Thiara in Extreme Fighting Challenge. He then moved to 2-0, by beating Ken Tran in his King of the Cage (KOTC) before he won a fight in Rumble in the Cage, and then signed exclusively with KOTC. He won two fights after signing that made the organization reward him with a shot at the Canadien Lightweight title against Kajan Johnson. Rory won the title. He then was awarded a shot at the KOTC World Lightweight title against Clay French and MacDonald knocked out French in the second round. After the fight, Rory moved up to welterweight and was successful defeating Elmer Waterhen and after his win over former KOTC 205-pound champion Nick Hinchliffe, the UFC took notice of the Canadian and signed up to a contract. MacDonald made his octagon debut at UFC Fight Night 20 against Mike Guymon, winning the fight via armbar submission in the first round. Many thought prior to his UFC debut, the fact he had almost fought exclusively with KOTC and primarily against Canadian opponents would be a problem when competing in the organization that has the greatest mixed martial artists in the world. He silenced that thought with the with over Guymon and now it's time for 'The Waterboy' to earn the biggest win of his young career.
TheCoach's Pick: MACDONALD via DECISION
Heavyweight bout:

Ben Rothwell (30-7-0)
vs.
Gilbert Yvel (36-14-1, 1 NC)
Fight Style:
Rothwell – Kickboxing
Yvel – Muay Thai, Kickboxing
| | | | | | | |
| --- | --- | --- | --- | --- | --- | --- |
| Rothwell | | | | Yvel | | |
| 37 fights | 30W | 7L | | 52 fights | 36W | 14L |
| By knockout | 17 | 4 | | By knockout | 31 | 3 |
| By submission | 11 | 1 | | By submission | 5 | 3 |
| By decision | 2 | 2 | | By decision | 0 | 5 |
| | | | | Draw | | 1 |
| | | | | No Contest | | 1 |
Loading ...
Ben Rothwell is an experienced veteran in the mixed martial arts world, who has been competing since the age of 17 (he's now 28) and has had most of his fights come outside the octagon. In 1999, Rothwell made his MMA debut in 'Freestyle Combat Challenge', in a fight which lasted 0:21 seconds and after going on to win his next three fights, was paired up against Tim Sylvia at Extreme Challenge 42. Sylvia won the bout via decision but Rothwell proved to many people in mixed martial arts that he can compete with the best by going the distance with, at the time, one of the biggest names in the sport. Rothwell went 16-4 in his next 20 fights improving his record to 20-5 before the International Fight League (IFL) came calling. Unfortunately for Rothwell, the twenty-five fights he had previously fought were not against fighters who had made a name for themselves and the only fighters who had a name, beat him. All that changed seemed to change in the IFL when Rothwell knocked off nine straight wins with notables victories over TUF: Season 10 winner Roy Nelson (split decision), as well as Ricco Rodriquez (unanimous). In his last three fights, two came outside of the IFL before he made his UFC debut. The first was his in 'Affliction: Banned' against Andrei Arlovski before the organization folded. Arlovski connected with an uppercut early in the third round and it was lights out for Rothwell as he experienced the second knock-out loss of his career. At Adrenaline MMA 2: Rothwell had a TKO victory over Chris Guillen in the first round, which was followed by his octagon debut at UFC 104. Rothwell fought rising star Cain Velesquez and as I predicted, Velasquez knocked out Rothwell at 0:58 of the second round. From 1999-2006, Rothwell could have been the favourite in almost any fight he was a part of but since MMA has become gone viral, the rest of the world has caught up. At the same time, Yvel has been around forever, and 31 of his 36 wins have come via knockout but you'll see soon enough that one of his biggest knock-out came over a referee.
That's because I can only summarize Gilbert 'The Hurricane' Yvel in one word. Maniac. The dude is a nut. If you don't believe me, before I get too far in the preview, watch this and think about who would do this… a maniac.
Fast forward to 1:40 if you don't want to watch the entire video.
This wasn't the first time Yvel has been controversial. In 1998 (the ref incident was 2004), he bit the ear of an opponent 'a la Mike Tyson' and in 2001, 'The Hurricane Yvel' was disqualified after raking the eyes of an opponent multiple times to avoid being taken down. As a fighter, he has no respect for his opponents and is questionable the dirtiest fighter to ever appear in the UFC. At the same time, he can throw a punch that will put opponents jaw on the other side of the octagon. Before the eye gouging disqualification, Yvel had fought an incredible 33 fights from February 1997 to September 2001, but had lost fights to the likes of Dan Henderson and Vitor Belfort in the process. His 25-7-1 record was impressive, but he really didn't have any notable wins. From 2002 to 2005, Yvel only fought five times and had trouble securing a mixed martial arts licence due to knocking out the referee in 04′. Since, he's fought in organizations such as Pride, Affliction, among others compiling a record of  8-2 but continued to have problems securing his fight license (more in 06′ and 09′). His only big win came over Pedro Rizzo, who is old and no longer any good (he's lost eight of his last fifteen fights) and the two of Yvel's losses came against Roman Zentsov and Josh Barnett. Yvel is horrible, period. I don't care if he has a 'signature flying knee' and that 31 of 36 wins have come via knockout… knock out Rothwell and prove me wrong. But Rothwell is too experience to fall for some stupid flying knee that worked when MMA could be found in your local video store on VHS. In his last fight (which was his UFC debut), he fought Junior Dos Antos and got TKO'd in the first round. Actually, only eleven of Yvel's fifty-two fights have went past five minutes according to his professional fighting record… unfortunately, it'll probably take that long for him to crawl his beat-down ass out of the octagon.
TheCoach's Pick: ROTHWELL via TKO
Welterweight bout:

Paulo Thiago (13-1-0)
vs.
Martin Kampmann (16-3-0)
Fight Style:
Thiago – Judo, Brazilian Jiu Jitsu
Kampmann – Muay Thai, Submission Wrestling
| | | | | | | |
| --- | --- | --- | --- | --- | --- | --- |
| Thiago | | | | Kampmann | | |
| 14 fights | 13W | 1L | | 19 fights | 16W | 3L |
| By knockout | 2 | 0 | | By knockout | 7 | 3 |
| By submission | 8 | 0 | | By submission | 6 | 0 |
| By decision | 3 | 1 | | By decision | 3 | 0 |
Loading ...
Paulo Thiago is a Brazilian mixed martial artist listed by both Sherdog.com and MMAWeekly.com as a top 10 fighter in the Welterweight division. Thiago debuted in Storm Samurai in 2005 and beat Ricardo Petrucio via triangle choke followed by three fights in Grand Prix Planaltina, winning all three by submission. His next two fights were in two different organizations and yet again submission victories. At this point, JungleFights signed Thiago and he went on to compete in four bouts with the organization winning all four matches (two decisions, one submission and his first TKO). The UFC had certainly taken notice of Thiago's 10-0 record and signed him to a contract. Many thought that the reason he'd faired so well in his first ten professional fights was because he fought only in his homeland of Brazil and that 90 percent of his fights were against fellow Brazilians (similar to Rory MacDonald from Canada). Well, in his octagon debut at UFC 95, he silenced all critics with a knock-out of the night performance delivereed via uppercut to Josh Koscheck at 3:29 of round one (yeah, the same Koscheck who is now the #1 contender and upcoming 'TUF' coach). At UFC 100, Thiago suffered his first loss as a professional when he faced Jon Fitch, but the fight occured after the main event due to time constraints, which could throw off any fighter. Since, Thiago has rebounded with back-to-back victories over Jacob Volkman at UFC 106 (unanimous decision) and after 'Kos' pulled out of their rematch (hmm, I wonder why), Thiago submitted Mike Swick in the second round at UFC 109. Paulo Thiago is the
real deal and should honestly be fighting for the belt against GSP… the problem is, it wouldn't sell as Dana White had bluntly stated 'The Ultimate Fighter: Season 12′ will be USA vs. Canada. Expect Thiago to beat Kampmann like a red-headed step-child.
Martin 'The Hitman' Kampmann reigns from Denmark and has a record of 16-3 with a variety of outcomes in his victories (seven knockouts, six submissions, three decisions). All his losses have come via knockout as he's never been submitted or lost by the judges cards. It's a good thing for Kampmann he isn't fighting a Welterweight with heavy hands but Thiago still outmatches Kampmann in every category once this fight goes to the mat… and it will. Regardless if Kampmann is a submission wrestler or not, he doesn't have the brazilian jiu jitsu skills that Thiago does and it will be evident come June 12th. Prior to the UFC, Kampmann went 9-1 in organizations such as Viking Fight, XFC, M-1, King of the Cage, Cage Warriors as well as many others. After traveling from Denmark, to Sweden, to England, to Russia and lastly, the United States, Kampmann has finally been able to stay put in North America with the contract he signed with the UFC. 'The Hitman' debuted in 2006 at UFC Fight Night 6 and beat Crafton Wallace via unanimous decision followed by a rear naked choke submission victory over Thales Leites at the TUF: Season 4 Finale. Kampmann had back-to-back victories over Drew McFedries and Jorge Rivera (both submissions) before suffering his first loss in the octagon against Nate Marquadt, getting knocked out early in the first round. Kampmann bounced back with wins at UFC 93 over Alexandre Barros before he headlined UFC Fight Night 18 and beat Carlos Condit. In his most recent action, Kampmann got knocked out by Paul 'SuckerPunch' Daley before submitting Jacob Volkmann. He has a lot of wins in the UFC, but no one he has beat is on the same skill level as Thiago and when they touch gloves in Vancouver, Kampmann will be in over his head.
TheCoach's Pick: THIAGO via DECISION
Heavyweight bout:

Mirko Filipović (26-7-2, 1 NC)
vs
Patrick Barry (5-1-0)
Fight Style:
Filipovic – Kickboxing, Boxing, Muay Thai
Barry – Sanshou, Muay Thai
| | | | | | | |
| --- | --- | --- | --- | --- | --- | --- |
| Cro Cop | | | | Barry | | |
| 36 fights | 26 | 7 | | 6 fights | 5W | 1L |
| By knockout | 20 | 2 | | By knockout | 5 | 0 |
| By submission | 3 | 2 | | By submission | 0 | 1 |
| By decision | 3 | 3 | | By decision | 0 | 0 |
| Draw | | 2 | | | | |
| No Contest | | 1 | | | | |
Loading ...
Mirko 'Cro-Cop' Filipovic can be considered a more experienced, gritty version of Patrick Berry and it's going to play right into the hands of Cro-Cop when they face off in Vancouver, Canada. Filipovic was a Croatian Cop prior to fight in mixed martial arts and kickboxing, hence the nickname 'Cro-Cop'. Not only has Filipovic been fighting in the MMA worlds for what seems like forever but also has a kickboxing record of 16-7 with eleven of his victories coming from knockouts. After he had a personal dissatisfaction with the salaries in K-1 Kickboxing (he knew he could make more in MMA), Filipovic made the switch to PRIDE FC, where he became one of the most house-hold names in the sport, fighting a staggering 24 times between 2001 and 2006 compiling a record of 18-4-2 (Cro-Cop also fought in three times in different organizations, winning all three). The two draws on his professional record came in his first two fights in Pride against Nobuhiki Takada at Pride 17 and Wanderlei Silva at Pride 20. It should be noted both fights were under 'special rules' that stated if the allotted time ran out, the fight results in a draw. Basically, no knockout or submission, it's a draw… weird, and I'm sure I am not the only one that's glad it's changed.
Through-out the next years, Cro-Cop won fights over notable fighters such as Heath Herring, Kevin Randleman, Mark Coleman, Wanderlei Silva (an INCREDIBLE fight and knockout you can see below) and Josh Barnett (twice), the latter fight earning him the Pride Open-Weight 2006 Grand Prix Championship. Filipovic's four losses in Pride came at the hands of Antonio Rodrigo Nogueira, Kevin Randleman, Fedor Emelianenko and Mark Hunt. The only real surprise in the group is Hunt, but the fight went the distance and Hunt was more aggressive during the bout, which is something that PRIDE judges take highly into account when scoring. The next move for Cro-Cop  was to come to the booming UFC in mid-2006 but he had a disappointing record of 1-2 (win over Eddie Sanchez, losses against Gabriel Gonzaga and Cheick Kongo) before jumping ship to fight in Dream 1 & 6 as well as Dynamite 2008 going 2-0 with one no contest. The improvement in record proved to be enough to convince Dana White to bring back Filipovic to fight in the once again in the octagon. Since being back, he flipped his record going 2-1 with wins over Mostapha Al-Turk (UFC 99) and Antony Perosh (UFC 110) with the loss coming in between against Junior Dos Santos (UFC 103). Cro-Cop has won big fights and lost big fights in every way you can imagine and that experience will be too much for Barry to handle.
Check out Cro Cop and Wanderlei Silva in possible the best battle in the history of MMA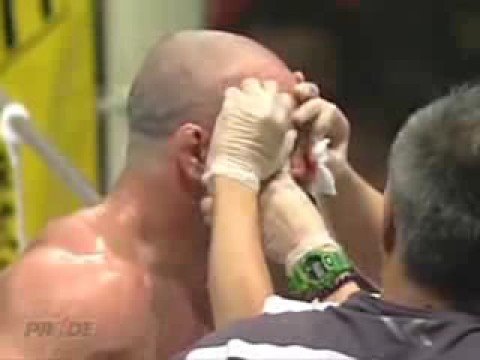 Patrick "Hype or Die" Barry started training professional for kickboxing at the age of 21 (now 30) and made his debut in 2002 at the U.S. Open International Martial Arts Championships, where he won the title. He changed clubs shortly after and a year later participated at Kung-fu World Championships in China, winning a silver medal. In June 2003, he won both the US National Sanshou Team Shot, and also a World Title by knocking out Paul Gurevidius. He won another silver medal in Wushu Kung-Fu (again in China), before winning the K. Superstar Title in New Orleans. In 2004, Barry moved to the kickboxing organization K-1 World Grand Prix and lost in his debut (via split decision) before moving to Amsterdam, Netherlands to train with four-time K-1 World Champ Ernesto Hoost. He fought in five K-1 bouts in 2007 compiling a record of 2-3 as well as 'World Combat League' going 3-1 but at this point, Hoost had given up on Barry. It resulted in a fall-out between the two and Barry knew at the time he was being overwhelmed in the kickboxing world and turned his focus to MMA, signing with 'Combat USA'. In his first professional fights, he defeated Mike Delaney, John George and Simon Diouf to bring his record to 3-0 before the UFC took notice and swiped up the Sanshou expert. At UFC 92, he made his octagon debut against Dan Evenson and Barry won with a decisive TKO victory at 2:36 of round one after multiple low leg kicks injured Evenson. Next the UFC paired up Barry vs Tim Haque, who handed 'Hype or Die' his first loss as a mixed martial artist. Most recently, Barry fought Antoni Hardick (who trains with Ernesto Hoost) and Hardick was TKO'd with a flurry of strikes at 2:30 of round two. It earned Barry knock-out and fight of the night, which put a nice $120,000 in his pocket. The win was also validation for Barry who wanted nothing more than to prove to Hoost he had made a mistake in letting him slip through the ropes. I wonder if Hoost will tune in at UFC 115 to watch Barry get dummied by a veteran of the sport… something he's never faced before.
TheCoach's Pick: CRO COP via KNOCKOUT
Also, Click Below To Check Out:
UFC 115: Liddell vs Franklin Main Event Preview & Predictions
or
UFC 115: Liddell vs Franklin Spike TV & Undercard Preview and Predictions
Links from around the web:
Filed Under: Sports
About the Author: TheCoach knows his stuff. Now you can either utilize the knowledge, or regret that you didn't.
Comments (2)