TheCoach | May 18, 2010 | Comments 2
Click Here To View TheCoach's Record For All UFC's, Weight-classes and Fighters

* UFC 114 will feature five Ultimate Fighter winners *
(Evans, Bisping, Sanchez, Escudero, Sadollah and originally Forest was scheduled to fight)
Main Card
Welterweight bout:
Diego Sanchez (23-3-0)
vs.
John Hathaway (13-0-0)
Fight Style:
Sanchez – Gaidojutsu, Wrestling, Brazilian Jiu Jitsu, Muay Thai, Boxing
Hathaway – Wrestling, Kickboxing
| | | | | | | |
| --- | --- | --- | --- | --- | --- | --- |
| Sanchez | | | | Hathaway | | |
| 26 matches | 23W | 3L | | 13 matches | 13W | 0L |
| By knockout | 7 | 1 | | By knockout | 5 | 0 |
| By submission | 10 | 0 | | By submission | 4 | 0 |
| By decision | 6 | 2 | | By decision | 4 | 0 |
Loading ...
Diego 'The Nightmare' Sanchez is a head-case and you know what, it might just be what makes him such a great fighter… check out this video of him coming to the ring at UFC 95 and tell me he isn't a nut.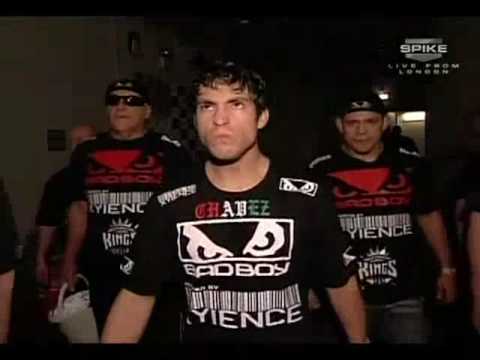 Exactly my point. Joe Rogan said it. Intense! Sanchez likes to state he is the "original" winner of the Ultimate Fighter, since his six-figure contract fight was prior to the Griffin-Bonnar war. Regardless or what anyone considers it, Diego is a champion at heart and will be making his return to the welterweight division to fight an undefeated brit, John Hathaway. Dieho broke into the UFC as a welterweight on 'TUF: Season 1′ and afterwards had victories over Brian Gassaway, Nick Diaz, John Alessio, Karo Parisyan and Joe Riggs. After six straight victories, Diego was looking as if he'd be a challenger for the belt… this was before a Sanchez tested positive for marijuana and was suspended for three months. After his suspension, he fought Josh Koscheck (he beat Kos in the semi-finals on 'TUF'), and Koscheck was victorious via unanimous decision. Following the loss at UFC 69, he lost again via split decision to Jon Fitch at UFC 76. Since, Koscheck has earned his shot at the title and Fitch lost to Hardy (in a fight for number one contender), so Sanchez knew he might be over his in the welterweight division. He stuck around for back-t0-back wins over David Bielkheden (submission) and Luiji Floravant (TKO) but afterwards made the jump to the lightweight division where he knew he could contend for the championship. At UFC 95, he made his light-weight debut against Joe Stevenson and although the fight was close, Diego landed the better of strikes to earn a unanimous decision. Next, the UFC made their greatest decision in 2009 by pairing up Sanchez against Clay Guida at 'The Ultimate Fighter: Season 9 Finale' and it earned 'Fight of the Year' honors for mixed martial arts in 2009. If you haven't seen the fight, do yourself a favour and watch it. It's a battle, and possible the most entertaining fight in history. Sanchez's next fight for the lightweight belt… and many thought Diego was the man to take B.J. Penn's title (it turned out to be Frankie Edgar), but B.J. controlled the entire fight
and in the fifth round landed a head kick that made Diego's forehead open up like a mashed vagina (click for image). With his return to welterweight, it's clear Diego has beat better fighter's than Hathaway and has the ability to do so. Sanchez will need to work his game plan and avoid the heavy hands of Hathaway though if he wants the W.
John 'The Hitman' Hathaway is probably the best 'unknown' fighter in the UFC, as many fans don't even know his name, yet he is undefeated and has a fabulous chance at beating Sanchez on May 29th. Hathaway, who has an even five knockouts with four submissions and four decisions comes from England and prior to fighting in MMA, was a open-side flanker on Hove RFC (english rugby team). He made his debut in 2006, and the UFC took notice after he compiled a record of 9-0 in organizations such as 'ZT Fight Night' and 'Cage Rage'. Hathaway signed a four-fight contract with the UFC (this is his last fight under contract but you can expect him to be resigned), and in his UFC debut, had an impressive TKO victory over Thomas Egan. The fight ended at 4:36 of the first round after Hathaway delivered numourous elbows while on the ground. In his next two fights, Rick Story and Paul Taylor both feel victim to Hathaway's dominant style of fighting. His victory against Taylor was scored on 30-27,30-27 and 30-26, just to give you an idea of how dominant it truly was. Unlike a lot of fighters, Hathaway uses his leg kicks like jabs and has good wrestling skills and take down ability but once on the ground, he hasn't shown an ability to pass an active guard. Fortunately for the Brit, he has a long frame that allows him to ground and pound while inside his opponents guard. As seen in his UFC debut, Hathaway isn't afraid to utilize his elbows, the use of which not only played a key roll in his victory over Thomas but Paul Taylor as well. Without question, this is the biggest fight of young Hathaway's career and unfortunately he's up against an extremely skilled opponent who has been in the UFC longer than Hathaway has been fighting professional and Sanchez might just overwhelm him. Diego has too many critics to silence to loose this fight but if he does, I'll classify Hathaway as the best fighter out of England… ahead of Michael Bisping and Paul "Suckapunch" Daley .
TheCoach's Pick: SANCHEZ via SUBMISSION
Light Heavyweight bout:
Antônio Rogério Nogueira (18-3-0)
vs.
Jason Brilz (17-2-1)
Fight Style:
Noguiera – Boxing, Brazilian Jiu Jitsu
Brilz – Wrestling
| | | | | | | |
| --- | --- | --- | --- | --- | --- | --- |
| Nogueira | | | | Brilz | | |
| 21 matches | 18W | 3L | | 20 matches | 17W | 2L |
| By knockout | 5 | 1 | | By knockout | 4 | 0 |
| By submission | 6 | 0 | | By submission | 9 | 1 |
| By decision | 7 | 2 | | By decision | 4 | 1 |
| | | | | Draw | | 1 |
Loading ...
Antonio Rogerio Nogueira is much more experience than Jason Brilz and I expect him to win this fight. Period. Originally, he was supposed to fight Forest Griffin but Griffin had to withdraw due to a shoulder injury. Not only did Brilz take the fight on short notice, but he hasn't beaten anyone who you'd want to write home around. Nogueira has beaten notable fighters such as Dan Henderson, Kazushi Sukuraba, Alistair Overeem, Guy Mezger and Luis Cane and his three losses are questionable against good fighters. Before I get into his career fights, it should be noted that before the collapse of Pride FC, Nogueira was one of, if not the biggest name in the organization. He's been a huge name in MMA around the world and also won boxing championships in South America as well as a medal at the Pan American Games. 'Big Nog' as they call him (he is the bigger of twin brothers who has the exact same name except their middle names are Rodrigo and Rogerio), has beat many notable fighters but as I said, his losses have been questionable. His first loss came in his fourth fight against Vladimir Matyushenko but at Affliction: Day of Reckoning, he beat Matyushenko so you can scratch that loss off his record. His second loss came against the best fighter in the world in the light-heavyweight division, Shogun Rua. Are you surprised he lost? No, you aren't. It was Shogun. So there is his 'first' loss by no one expected him to win anyways. Two fights later, Nogueira lost to, at the time an unknown Rameau Thierry Sokoudjou in what was considered one of the biggest upsets in all of mixed martial arts. The fight at Pride 33 took place in the United States and broke Sokoudjou into the mainstream MMA world. If they fought again, it'd be much, much different. When PRIDE folded, 'Big Nog' went to Affliction and when Affliction failed horribly, Noguiera came where he truly belongs; in the UFC, to fight the best in the world. Antonio Rogerio Nogueira made his debut against Luis Cane and came out with an entourage that included his brother and Anderson Silva. Nog satisfied everyone in attendance
with a early round one knock-out (1:56 of round one), which earned hi knock-out of the night. At UFC 109, Nogueira was paired up against Brandon Vera but after suffering a fractured ankle, Noguiera pulled out and now is set to fight Brilz (originally Forrest). Nogueira is head and and shoulders above Brilz in experience, skills and psychologically preparing himself for battle… which is as important as anything.
Jason 'Hitman' Brilz is a wrestler with submission capabilities as 50 percent of his victories have come via submission but since his UFC debut (TKO victory), he last three fights have gone the distance. Before fighting in the UFC, Brilz had a ten-fight win streak which turn a lot of heads (including Dana White). While going 15-1-1 in organizations such as King of the Cage, Victory Fighting Championships, among others, he never really fought any big names. He did beat Jason McDonald but come on, what the hell has he done in the UFC? Nothing. Exactly. In his UFC debut at Fight Night 15, he TKO'd Brad Morris and followed up with a unanimous decision victory over Tim Boetsch at UFC 96. Although it was a controversial loss, Brilz allowed his fight at UFC 103 to go to the judges scorecards against Eliot Marshall and the judges awarded Marshall a split-decision victory. Many felt Brilz won the fight but regardless, Marshall got the W, Brilz got the L and he looked to rebound at UFC Live on Versus – Vera vs Jones in a match-up against Eric Scheafer. Brilz was victorious, but afterwards stated despite his UFC success, he does not plan to pursue mixed martial arts as a full-time career. Fair enough, not everybody (especially somebody with two daughters) wants to have their wife and kids watch them get their face smashed in. As understandable as that is… it's the exact reason Brilz will loss to Nogueira. Yeah, he's probably been training. And yeah, he's a great wrestler and the coach at the University of Nebraska-Omaha, but any mixed martial artist who isn't pursuing an MMA career, shouldn't fight a veteran of Pride FC. Period. Brilz has never been knocked out and his time has come (sorry to his wife and kids but you may want to turn your head).
TheCoach's Pick: NOGUEIRA via TKO
Heavyweight bout:
Todd Duffee (6-0-0)
vs.
Mike Russow (12-1-0-1)
Fight Style:
Duffee – Boxing
Russow – Wrestling, Boxing, Jiu Jitsu
| | | | | | | |
| --- | --- | --- | --- | --- | --- | --- |
| Duffee | | | | Russow | | |
| 6 mathces | 6W | 0L | | 14 matches | 12W | 1L |
| By knockout | 6 | 0 | | By knockout | 2 | 0 |
| By submission | 0 | 0 | | By submission | 8 | 1 |
| By decision | 0 | 0 | | By decision | 1 | 0 |
| | | | | No Contest | | 1 |
Loading ...
Todd Duffee is an animal. In six professional mixed martial art bouts, he has six knock-outs and with only one fight in the UFC, holds the fastest knockout the in history of the UFC at 7 seconds of round one. Prior to signing with the UFC, Duffee went 5-0 in organizations such as Beatdown Fight Party, Crazy Horse Fights, Alianza National Full Contact and Jungle Fights. In Beatdown Fight Party (in his first two professional fights), he beat Jonathan Spears and Mark Walbright both with knockouts at 0:15 and 0:16 into the fight. Duffee moved over to Crazy Horse and knocked out Mark Haniger at 3:22 of round one and afterward, Josh Bennett fell victim at Alianza Full Contact at 1:25 of round one. After four professional fights, it had taken Duffee just over five minutes to knock out four opponents… animal! Duffee then agreed to fight UFC and Pride FC veteran, Assuerio Silva in the main event of Jungle Fights 11. Duffee dominated the fight and won by knockout in the second round (first first to go past the 1st round). After beating a UFC and Pride veteran, you can bet Dana White came calling and Duffee was signed. Originally set to make his Octagon debut at UFC 99 against El Turk, but the UFC pulled him from the fight and replaced him with Mirko Cro Cop. Next, they had him paired up against Mike Russow at UFC 102 in what would have been both fighters debut in the UFC but fights were swapped and Duffee faced off against Tim Hague. Thank god the fight got changed because you got to witness the fastest knockout in UFC history. Check it out:
Yeah, Tim Hague is a gat-damn idiot… who open's up like that with a left hook so quickly but regardless, a win in a win, a record is a record and seven seconds is very, very fast. Most fights don't even see the fighters engage before ten seconds so what Duffee did was incredible. If you couldn't make out what Duffee said, it was ""That was an appetizer, I want to eat now Dana, let me eat!" and that's exactly what he's going to do to chubby Mike Russow. After pulling out from a fight at UFC 107 against Paul Buentello due to a back injury, Duffee is ready to finish off another fight in the first round. Enjoy it.
Mike Russow is more experience than his opponent with a record of 12-1-0 (with one no contest), but putting it bluntly, he is not as talented as Duffee. He is a wrestler and trains brazilian jui jitsu so you can expect him to want to take the fight to the ground and avoid a flurry of punches. If he lays his fat body on Duffee (google 'Big Country vs Kimbo to see what I am referring too), than he may have a shot at winner the fight, but it will make for an extremely boring contest and the crowd will boo louder than you can imagine. They want nothing more than another knockout by Duffee after he set the UFC record. They've seen he can knock people out, and knock em out quick and they're going to want to see Russow flat on his back. Russow had fought in the organizations of Adrenaline MMA and Pride FC (as well as many other less known) before coming over to the UFC. At Pride 33, back in 2007, he suffered his only loss to Sergei Kharitonov and his second fight ever coming was a no contest (Combat – Do Fighting Challenge). Before Adrenaline MMA closed it doors, he headlined one of the cards against Jason Guida (an 'Ultimate Fighter' cast-out) and dominated the fight. Next, at Adrenaline MMA 2, he beat Braden Bice quite easily as well. Both victories came via submission in the first round and he can finish fights almost as quick as Duffee as nine of his twelve victories have come in round one, while seven of the nine were via submission. Pretty impressive. Russow also holds a notable win over Roman Zentov, whom is a M-1 Global veteran (the fight took place in Japan at 'Tarennoka!'). In his UFC debut, after the fight card changed and he was paired up against Justin McCully, he won via unanimous decision (29-28, 30-26, 30-27). What concerns me, is that Russow wasn't able to finish the fight against a mediocre opponent in the heavyweight division. Heavyweights are known for throwing knockout punches and Duffee does exactly that and as long as he doesn't get caught in a submission like Mir caught Lesnar in their first fight, Russow is going to the next plate in Duffee's course meal. Let the man eat Dana, let the man eat.
TheCoach's Pick: DUFFEE via TKO
Middleweight bout:
Michael Bisping (19-3-0)
vs.
Dan Miller (11-3-0)
Fight Style:
Bisping – Kick Boxing, Mauy Thai, Brazilian Jiu Jitsu
Miller – Freestyle, Wrestling, Brazilian Jiu Jitsu
| | | | | | | |
| --- | --- | --- | --- | --- | --- | --- |
| Bisping | | | | Miller | | |
| 22 matches | 19W | 3L | | 15 matches | 11W | 3L |
| By knockout | 12 | 1 | | By knockout | 1 | 0 |
| By submission | 4 | 0 | | By submission | 7 | 0 |
| By decision | 2 | 2 | | By decision | 3 | 3 |
| | | | | No Contest | | 1 |
Loading ...
Michael 'The Count' Bisping is the most well known fighter out of England, but if Hathaway beats Sanchez earlier on the fight card, that could very well change. As for Bisping, he's expected to beat Miller and there is no reason why he shouldn't. Yet another winner  of 'The Ultimate Fighter' as he went on to win season three and before appears, had a record of 10-0 in organizations such as Pride & Glory, Cage Rage and Cage Warriors Fighting Championships. Eight of his ten victories came over fellow brits. During his time in Cage Rage and Cage Warriors, Bisping held the title for both organizations, which caught the UFC's attention. On 'TUF: Season 3′, he won a preliminary bout against Kristian Rothaermel by TKO, followed by a semi-final win against Ross Pointon by submission after landing a flying knee and a series of strikes. In the finals, Bisping defeated Josh Haynes by TKO at 4:14 into the second round to earn his UFC contract. Since, Bisping has enjoyed an impressive career and holds a record of 8-3 in the Octagon. Some of his notable victories consist of a split decision win over Matt Hamill at UFC 75, a TKO win over Jason Day at UFC 85 and a unanimous decision over Chris Leban at UFC 89. His first loss came at the hands of Rashad Evans after the Hamill victory at UFC 78 via split decision. In his last three fights, Bisping has been paired up against some of the best the UFC has to offer and because of it, he's lost. First, on a stacked card at UFC 100, he fought Dan Henderson after they coached TUF: Season 9. Bisping had never been knocked out and was put decked with a devastating blow from Henderson but rebounded against Denis Kang at UFC 105. 'The Count' has fought a lot in the UFC, and in every fight, he has improved and it showed in his match up against Kang, but it has not enough to defeat Wanderlei Silva in his most recent fight. The fight went the distance
and the difference was Silva unleashing a flurry of punches in the dying seconds of rounds two and three. All judges scored the fight 29-28. Expect Bisping, with much more experience from fighting against well-known veterans of mixed martial arts to fight a way to win this fight. He wants to rebound from the Silva loss and avoid losing three of his last four bouts.
Dan Miller trains with brother Jim Miller, who also fights in the UFC and will be looking to get back to his winning ways after losing his last two bouts. Early in his career, Miller fought in Reality Fighting, Cage Fury, International Fight League and Ring of Combat and compiled a record of 8-1-0 (with one no contest). The UFC wanted both the Miller brothers, and signed them to fight contracts and when Dan made his UFC debut at UFC Fight Night: Diaz vs Neer, he beat Rob Kimmons by submission (rear-naked choke) at 1:27 of round one. Next, he took out Matt Horwich via decision at UFC 90, followed by Jake Rosholt by once again submitting his opponent (this time with a guillotine choke) at UFC Fight Night: Lauzon vs Stevens. With three straight wins, and two of them being decided early in the first round, UFC fight promotor Joe Silva decided Miller would fight Chael Sonnen at UFC 98. Bad idea, as Sonnen is more talented than Miller and beat him by unanimous decision. The UFC responded by pairing him up against another up and coming fighter in the sport, Damien Maia at UFC 109. Bad idea, as Miller was dominated by Maia and lost the fight by unanimous decision yet again. While I'm being a little hard on Miller, it's obvious he is not at the same level as Sonnen, Maia and Bisping. It's why Bisping is going to win the fight. Miller may be a submission specialist but it's not like Bisping isn't familiar on the ground and he won't be stupid enough to give up parts of his body that unexperienced fighters (that Miller has beat before) would. After three wins, followed by three losses in the UFC, many question marks will surround Dan Miller and it's hard to say if he's resign. If he wins, there's no question he'll be back and the questions marks turn to Bisping but this fight means to much to Bisping and you won't see him lose.
TheCoach's Pick: BISPING via DECISION
Also, Click Below To Check Out:
UFC 114 – Rampage vs Rashad – Undercard & Spike Card – Preview & Predictions
and
UFC 114 – Rampage vs Rashad – Main Event (PRIMETIME EPISODES INCLUDED)
Links from around the web:
Filed Under: Sports
About the Author: TheCoach knows his stuff. Now you can either utilize the knowledge, or regret that you didn't.
Comments (2)