NateBlack | Jul 23, 2014 | Comments 0
In this new Bre Major directed Tiny Danza music video, we see band members Galen Hogg and Andrew Cameron demonstrate some Pulp Fiction-level mischief, as they cruise around Toronto, brutally murdering any of their band-mates members who get in the way… Yes, you read that correctly.
The hip-hop hybrid band is known for going that extra mile to entertain, and I feel like Mr Major said "Yes" to every outlandish suggestion they had while making this video, for their single "Killin' It," to accomplish that, and sometimes it just works. From liquor swilling bar scenes, to exuberant McDicks chills in Parkdale, to inexplicable public urination, Hogg and Cameron are in full "don't give a fuck" mode for the entire 4:30 ride!
Check the video out below, stalk Tiny Danza through the interweb, and grab the song on iTunes here! You can also catch the band playing live at August 6th at Tattoo Rock Parlor, alongside Bad Rabbits!
Fanpage | Twitter | Instagram | Website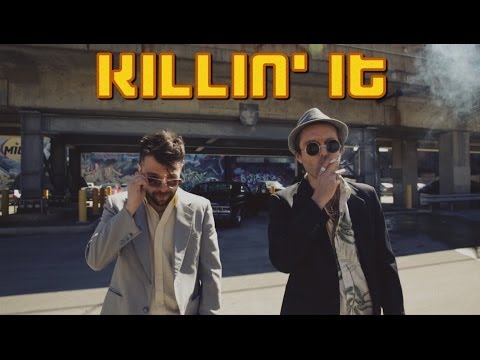 Links from around the web:
Filed Under: Music
About the Author: NateBlack is doin pretty good as far as geniuses go. Arrogant, insightful, and humble, Nate possesses one of the most dangerous minds of our generation. Stay tuned for More News, Re-Posts, and Originals from this modern day scholar. *If any of you are interested in writing for LDU contact 'Nate Black' via Facebook or nathan@lionsdenu.com*
Comments (0)