Sandra Kirilovic MUC | May 13, 2010 | Comments 1
Most of you have probably seen the "History will be made" commercials playing during the NHL playoffs. What you may not have seen, and should see, is the tribute to our favourite announcer: Pierre McGuire.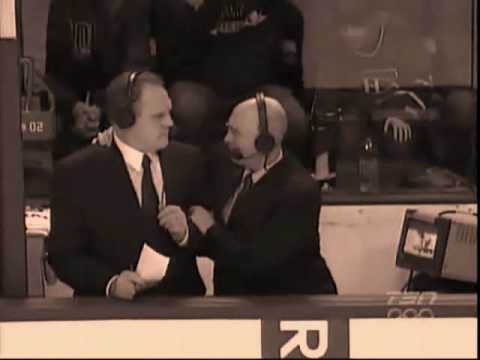 And just in case that's not enough Pierre for ya- grab a pop, put on the game, and play the Pierre McGuire Drinking Game.
The Offical Pierre Mcguire Drinking game:
DRINK ONE GULP OF YOUR DRINK IF PIERRE USES ANY OF THE FOLLOWING:
* Dion Phaneuf
* Mike Richards
* Carey Price
* Jonathen Toews
* Monster
* Whaaamo!
* El- Kabong
* Real Deal
* Puck Poise
* Big Body Presence
* Active Stick
* Calls a Player "Special" or " a fine young man"
* Wow!
* Tenacity
DRINK TWO GULPS OF YOUR DRINK IF PIERRE:
* Giggles at any point during the game
* Pronounces a European club team using European Pronounciation
* Mentions people he met in Europe
* Says " Team 'X' Scouting staff did a great job finding this player"
* Says Something extremeley gay (EX. Big Stick…SHOWERS….player with shirt off)
* Goes nuts when a team, has two many men
* WJC host city is "Beautiful" or "Filled with great people"
* If a stick breaks and Pierre rambles on about one-piece sticks
* Says welcome to the Show (Ex. Welcome to the Crosby Show)
* Cuts off Gord Miller (Ex. WJC 2009 Eberle ties the game)
* If pierre says "Time and Space"
* If Pierre goes on about a players Junior Career
* If Pierre says "Its Hammer Time"
* Says "Sheer Larcany"
* Pierre says "Thats just not good enough"
HAVE 3 GULPS OF YOUR DRINK IF PIERRE:
* Mentions a Staal brother who isn't playing
* Mentions a Sutter brother who isn't involved in the game
* Says the Game is a Classic!
* says " Team X should be so exicted about havng this guy he is gonna be great for them down the road".
* If Pierre says "Roof Daddy"
* If Pierre goes " Thats a Double Dion"
* Pierre uses his famous line "He suckin' dirty pond water"
* "x" player is oozing with hockey sense."
* drink if pierre uses 3 or more adjectives consecutively to describe a player or a team… Ie: "Size, athleticism, composure etc…" extra drinks if he uses terms such as "big body presence" that are already on the chart as said adjectives.
CHUG YOUR DRINK IF PIERRE:
* Has an Orgasm at the mic (Ex. Dustin Tokarski save WJC 2009)
* If Pierre ruins the moment aka butchers the call (Ex. WJC 2009 Eberle ties the game with 5.5 seconds left…. Gord Miller: Can you Believe it!..Pierre: I can!
* Says " Thats vintage X" (Ex. Thats Vintage Jake Allen)
* If Pierre says Drew Doughty has the body type of Denis Potvin and the Hockey IQ of Raymond Borque
Links from around the web:
Filed Under: Sports
About the Author:
Comments (1)