NateBlack | Jun 25, 2012 | Comments 0
This weekend at the POP Festival in Sao Paulo, Brazil Paris Hilton dropped her new track, a collaboration with hit making producer Afrojack, "Last Night" and yes it sounds like every other track Afrojack has ever produced. If that scenario wasn't contrived to begin with, we might also add that she failed to notice she was playing Rihanna's "Found Love" at the same time she dropped the new track, unleashing an audio assault that is being heralded as "the worst mashup of the century" … it's good to have goals. This noise accosted the audiences until a technician popped up (around the 1 minute mark in the video) and adjusted the levels while Paris continued to perform a sensual dance to the beat flail like a scarecrow in a storm.
Paris was of course very pleased by her performance, but a number of other publications have already voiced their displeasure via the Twitterverse.
We hope the money was worth it Afrojack.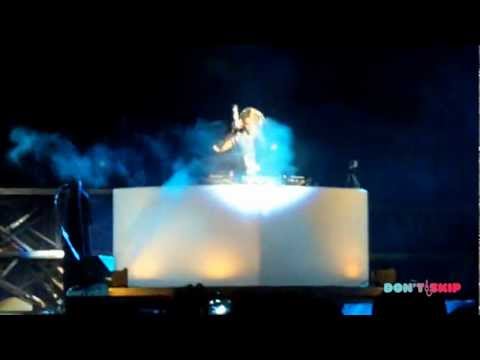 Links from around the web:
Filed Under: Music
About the Author: NateBlack is doin pretty good as far as geniuses go. Arrogant, insightful, and humble, Nate possesses one of the most dangerous minds of our generation. Stay tuned for More News, Re-Posts, and Originals from this modern day scholar. *If any of you are interested in writing for LDU contact 'Nate Black' via Facebook or nathan@lionsdenu.com*
Comments (0)