NateBlack | Oct 22, 2012 | Comments 0
Every so often a model will catch our eye, and we just know we have to feature them as a Monday Morning Mistress. Most of the time, we notice them because of their stunning figures and looks, and while Sarah Leann is no different, it was actually her frequent comments and interactions on the Lion's Den U fanpage that first grabbed our attention. We clicked on her profile and saw the following …… the rest is history.
Born and raised in Houston, Texas, Sarah is a mix of French and Polish. Who knew that these were the ingredients for perfection? Not only is she extremely easy on the eyes, but Leann is a die-hard Texans fan, (as seen in the picture below) living just 20 minutes from Reliant Stadium.
You're most likely to find Sarah doing something involving cars, whether it's modeling with one or riding shotgun in a bikini (reference to a youtube video that's received over 350,000 views), and if you're familiar with Gama Photos, you may recognize her, as she's a prominent face of his work.
If you Google her name, you'll come across her 3rd place finish in The Hooters Bikini Competition, where she modeled with a running chainsaw… You can't make this shit up!
Check out More Sarah Leann at her Website and Facebook.
Interview with Sarah
Who are you?
My name is Sarah Leann and I am from Houston, Texas, born and raised! I'm French and Polish. I spent my high school years raising my beautiful daughter Kacie, and now I spend time with my awesome family and running our business.
What 5 words best describe you?
Goofy, sweet, shy, crazy and loving.
What do you like most about living in Houston, Texas?
The economy is good. It's easy to find jobs. Everyone's a Texan's fan and I'm only 20 minutes from Reliant stadium!
How and when did you get into modeling?
I first got into modeling by participating in the Hooters pageants. It was required to take pictures, and I started getting really positive feedback so I tried out for the calendar. I did not make the calendar, but met a lot of great photographers since my attempt and that all started about 8 months ago.
What would you say is your biggest accomplishment thus far?
My biggest accomplishment is just being able to work with the awesome people I've met s,o far. I got really screwed over by the first photographer I ever worked with, and was cautious about who I shot with after that. The photographers I have met since have been so helpful in telling me what to watch out for, who is trustworthy and who is not so just being able to work with people like that is an accomplishment to me.
You competed in a Hooters Bikini Pageant and placed 3rd, can you tell us a memorable story or experience from it?
My most memorable story from that pageant is a sad one. All the girls arrived hours early to get ready. There was a lady available to help cover up tattoos so when it was my turn I went into her dressing room. She was so beautiful, except she had this scar all the way down from her check to her jaw line. I tried to keep my eyes from staring, but I'm sure she was used to it, so she decided to share her story with me… She had gotten skin cancer from over-tanning. She got rid of the cancer, but was left with that huge scar on her face. I have not been tanning since, only spray tans for me now.
As a Legacy Fighting MMA Ring Girl, what are some of the events you've done? Are you an MMA fan yourself? Who are your favourite fighters?
I only did two fights for Legacy after being kicked off the Hooters team. The photographer I mentioned that screwed me over earlier was best friends with the marketing manager of Hooters who was in charge of the ring card girls. So when I tried to seek help from Hooters since he works with them, I was kicked off instead and everyone turned their backs on me. The fights were super fun to attend, as just the atmosphere alone is an experience. I have since ring carded 1 fight for Garcia promotions, which was also super fun! My favorite thing about ring carding is getting front row seats!
I am an MMA fan, and my favorite fighters are Larry Crowe and Derrick Lewis. They are close friends with my family, and are doing big things.
Do you like any other sports? Who are your teams?
In the last two years I started following football. I am from Houston, so obviously I took to the Texans. The year before last was my first year to go to a game, and even though we weren't as good as we are now everyone was just going crazy over the team. Going to the game is what got me into it. I made loud beer shakers, and started learning the different football terms, and now I am a huge fan. I got up and yelled at the TV for the first time EVER IN MY LIFE at the Texans vs. Bengals game last year in the playoffs. Now we are 5-0 and Super Bowl bound! GO TEXANS!
You've been pictured with a chainsaw, and on some websites are deemed an 'expert' with one. Is this true? How'd you become so familiar with a chainsaw?
I'm an expert at painting a chainsaw
I actually had help back stage starting it. My lumberjack outfit wouldn't have been complete without it. I stole it from my boyfriend's garage. He wasn't too happy about his newly purple and sparkly tool
Growing up I had 5 older brothers to do all the yard work, so I've never even mowed a lawn, much less having to use a chainsaw for anything.
You've worked a lot with GamaFoto. Why do you enjoy their photography so much?
Due to GAMAFOTO's handicap (he is deaf in one ear and blind in one eye) his sense of light is heightened, which produces amazing work. He is always fun to work with, and we have become friends, I would like to think. He isn't scared to tell me when something looks awkward or stupid. He is very directive, and we can both put our visions together to create something we both love.
Having shot with a lot of cars, do you have a personal favourite set of wheels yourself?
No, I do not have any particular favorite but if they would just let me drive one of those cars I'm sure that one would be my favorite!
With so many models trying to make it big these days, what separates you from the rest of the competition? … other than the obvious
I think what separates me from anyone else is that I've only done a limited amount of shoots ( maybe 10 shoots altogether ) and I've already had so much positive feedback. The photographers I've shot with so far have definitely helped me out a lot. I had no idea what I was doing the first time, just got in front of a camera and started moving my arms around.
If you had three wishes, what would you ask for?
If I could wish for anything I would wish for;
My family and I to live forever
To have enough money to do what I wanted when I wanted.
And world peace.
What would we most likely her if we pushed play on your iPod?
I don't have an iPod nor iTunes. I just turn my radio on 93Q and jam to whatever's on at the time. I listen to the second date update every morning, and when I'm feeling really pumped up I'll change it to 94.5.
Do you have any tattoos or piercings? If so, where?
I pierced my own ears in high school (3 times) and I had my belly pierced, but let it close up. I felt I was out-growing that look. I got my sweetheart's lips and my daughters lips tattooed on my left hip and that will be the only tattoo I ever get 'til I die.
What's your biggest fear?
I'm a mom so I have MANY fears now. Before that I was fearless. But I would have to say my biggest fear is winding up on the show, "Vanished."
What's the weirdest, or more memorable pick up line you've ever heard?
The most memorable one was when a girl came up to me and said "Oh my god! You are so hot! Can I come home with you?"
What do you like most about your body? What do you think guys like most?
I could tell you what I hate the most before I told you what I love the most. But it would probably be my legs. My family calls them the "dworczyk thighs." That's the polish in my family for ya. No matter how much I diet or workout I will always have thick legs. And I'm ok with that. I think it makes me stick out. I think guys would say the same.
What turns you on?
When a guy can make me laugh more than he makes me cry. Or can make me cry from laughing. Confidence and trustworthiness are also big turn-ons. I love surprises, and the little things. Just a text during the day to let me know you're thinking about me, or a kiss on the check when I get home from work.
What turns you off?
Cockiness. Being loud and obnoxious (unless at a Texan's game) Cheaters. Liars. People that say they're going to do something, and then don't deliver. Wet socks.
Where's the craziest place you've hooked up with someone?
Shame on you.
Do you prefer the top or bottom?
Top bunk is fine with me.
What would your dream photo shoot be?
That million dollar shoot.
Are there any magazines or websites you have on your bucket list?
Maxim, FHM, and my own website coming soon! Any website and magazine would be exciting just not anything pornographic.
Where can we see more of you in the future?
SarahLeann.com (coming soon) If you haven't Liked my Facebook yet go check it out at facebook.com/sarahgleann
Do you have any final words for Lions Den U readers and your fans?
Thanks for your interest and go check out my new website in the next month for all up coming 2012 and 2013 events!
We'll be watching closely! ♥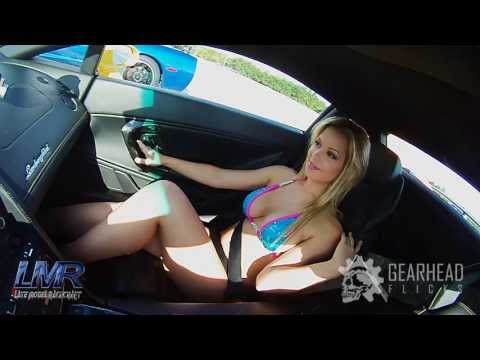 Links from around the web:
Filed Under: Featured • LDU's Monday Morning Mistresses • Women & Relationships
About the Author: NateBlack is doin pretty good as far as geniuses go. Arrogant, insightful, and humble, Nate possesses one of the most dangerous minds of our generation. Stay tuned for More News, Re-Posts, and Originals from this modern day scholar. *If any of you are interested in writing for LDU contact 'Nate Black' via Facebook or nathan@lionsdenu.com*
Comments (0)