Fashion Fatale | Nov 24, 2014 | Comments 3
Introducing Western's very own Nequita Russell! This young lady is not only a Criminology aficionado, but also an independent model, singer, and songwriter. When she is not busy conquering the EDM scene and breaking hearts, Nequita enjoys a bit of down time in yoga class, and working on her fitness in the gym.
There's no doubt that between her stunning figure, raw musical talent and refreshingly positive outlook on life, we've fallen just a little bit in love with Nequita Russell. Check out her interview below:
Who are you?
My name is Nequita Russell, and I was born in Johannesburg, South Africa. I am of East Indian descent, and that probably explains why I love Yoga so much! I live in Toronto, Canada.
Which 5 words best describe you?
Focussed, Determined, Passionate, Loving, and Strong.
Where and what did you study in school? Did you enjoy it?
I currently attend UWO and my course of study is Criminology and Sociology, in which I will attain double major. I love criminology and understanding crime at the academic level! It is brilliant stuff, and I really enjoy my classes! 
When and how did you get into modelling?
I started modelling as a child model in South Africa, doing runway work and pageant competitions through my child modelling agency. I stopped when I came to Canada, and only recently continued as of last year, as an adult. I am an independent model now, and I love fashion.
We hear you're in a band called Electrodyssia. Can you tell us more about that?
Electrodyssia is from London, and we are a relatively new band that plays dance-techno, pop inspired music. My involvement with the group came about a year ago, when I connected with a few London musicians, who at first only needed another song writer, so I offered to help! I would later join the band as a singer, and with all of the progress we have made this year will hopefully increase our exposure with upcoming shows.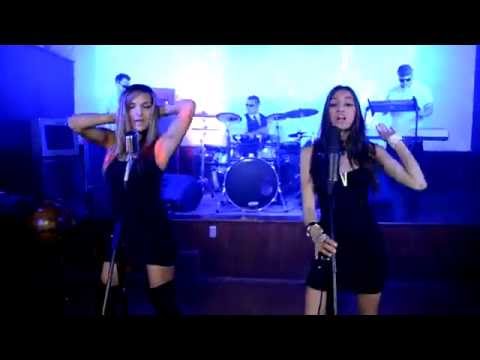 Do you resonate more with your modelling persona or your musical one?
I think that both my modelling persona and musical persona are integral halves of who I am. I love them both and would say that they both equally resonate with me. They both interrelate and inspire each other, especially when it comes to my solo music career.
What inspires your song writing?
Real life experiences and spirituality both influence my music writing process. I like to write about things that seem fantastical or surreal, but I also value writing about things that people can relate to on a more down to earth level.
What three artists would you collaborate with musically?
1. Kendrick Lamar – I think he's brilliant and love what he's done for hip hop today. I would love to collaborate with him.
2. Rihanna – Love her sound! She is iconic and has a strong signature in the music industry. It would be an honor to work with Rihanna. Love that girl!
3. Hopsin – Collaborating with funk volume would be the dream of a lifetime. I love Hopsin's work and can relate to a lot of his music.
You are currently studying Criminology at Western. What was the inspiration behind your major?
I find criminology exciting because it offers me an understanding of the Criminal Justice System and allows us, as students, to take classes that can give us the knowledge we need to understand how to deter crime and analyze what factors can lead to crime on the macro level within our communities, as well as on a micro level with individual offenders (psychopathy, serial killing, levels of crime committed)
With my criminology degree I plan to work with the government or with Police. I really find intelligence work very intriguing and have spoken to a few members of the OPP and Police department in Toronto about getting an idea of the type of environment they work in. National security is another sector of the criminology field I would consider going into, and would love to have a chance to put my degree to work in any of these positions.
How would you describe your personal sense of style?
I love to wear skirts and dresses, and look very feminine. I love high heel boots and I think people get annoyed with hearing my heels click on campus sometimes, because it can be loud! LOL But I don't care, because I love fashion and looking glamorous! It's in my blood! 
If you could date any superhero who would it be?
I would date Batman, so I could ride in the Batmobile!
Any hidden talents?
I can do a really good tree pose in Yoga class!
What is something people would be surprised to find out about you?
I have been taking up more cooking, and I really enjoy trying different types of vegetarian dishes and seafood, which I adore!
Who has supported you the most in your modelling and music career?
I always paid my own way throughout my pursuit of music sand modelling; I have had more discouragers than encouragers in my life. However, I think God has been my biggest inspiration for pursuing my dreams, and there have been good people who have encouraged me like one photographer I have worked with, Julio.
Thanks Julio for always having kind words to say during our photo shoots!
How do you feel about celebrities recently getting their private photos hacked?
I think it's really sad and quite disturbing that people can leak photos for their own benefit. It's clear that this world is really cold and there are a lot of envious greedy people out there, so I'm not surprised.
How would you describe the ideal guy?
Intelligent, Confident and Funny. These three things are so important for me, and also he would have to be attractive. I love fitness and I think going to the gym/enrolling in a fitness club/martial arts whatever it may is very beneficial to general health, a healthy body, and healthy mind, so being physically fit is also key.
If you were going to take me sight seeing in your hometown where would we go?
I would take you to God's Window in Mpumalanga, South Africa, which is a beautiful landsite in the mountains that shows you a full view of the world below. It's called God's window, because that's what it really looks like! I would then take you to the Trumps in Sandton for a dinner on Nelson Mandela Square. The calamari is delicious and you can get really fine, rich wine from Europe to complement your meal. Then I would take you to the VIP Room in the Michelangelo Towers for a night out, South African style, where you can meet amazing people and party until 3 am!
What was the last thing you laughed out loud at?
When my brother and I had a dance party in my parents' house, and his choice of moves were absolutely hilarious. My family always makes me laugh. I love them!
What would the title of your autobiography be?
Rail de Musique (a song I love written by Stromae)
What do you have planned for the future?
I plan to travel, secure a good job, and keep pursuing my music career to the fullest. I also wish to relocate back to Toronto. My main goal is to fulfill God's purpose for my life, and live a peaceful life.
Links from around the web:
Filed Under: Featured • LDU's Monday Morning Mistresses
About the Author:
Comments (3)