TheCoach | Jun 18, 2012 | Comments 0
Sometimes different nationalities, backgrounds and ethnicities have language barriers, and we at Lions Den U and Banyka Deborah Dipell would likely agree that at times, we had a hard time trying to put this feature together. One thing we also agreed on is that this is one of the sexiest Monday Morning Mistresses… ever.
Banyka, born and raised in Poland, had been in the modeling, acting and in theatre literally before she could walk, as she modeled as a baby in a magazine for pregnant women, babies and children. She got into more serious modeling at the young age of seven, but since she was having trouble finding work, her parents simply 'changed' her date of birth and decided she'd go by the  name Monika Pietrasinska when modeling.
If you Google Monika Pietrasinska, you'll find tons of articles on her. Ones with Brosome.com, CoedMagazine, Playboy, Maxim and just about every other website that targets a male audience. The thing is, we found next to nothing on Banyka, as only recently has she decided to start using her real name. Also, not many websites had done an interview with her, so as we always do, we went one-step above the rest.
Whether you want to call her Monika or Banyka, it really doesn't matter change the fact that this woman is one of the most exotic and sexy looking women you'll ever lay eyes on. It's no wonder she's been linked to some famous actors, and been dubbed 'The Famous Polish Model' by an entire country.
Check out more Banyka Deborah Dipell AKA Monika Pietrasinska at her Fanpage!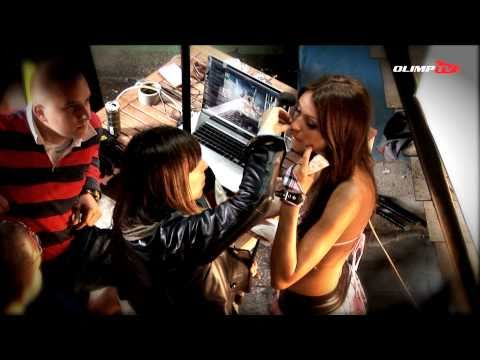 Interview with Banyka Deborah Dipell – Monika Pietrasinska
Who are you? 
My full name is Banyka Deborah Dipell De La Riva. I was born in the capital of Mexico, Mexico City on November 28th 1990 and grew up in a wealthy family. My nickname is Banykii. I'm currently in a relationship and have one child, her name is Nina Vanessa. And some of you may know my cousin, beautiful actress and model Keira Christina Knightley
Immediately after I was born, I lived in Poland for a couple of years. We can say that Poland is my second home. That's why I chose the Polish language.  My second name, and one I am famous for, is Monika Pietrasinska. They gave it to me when I began my career as a model in Poland. My fame started when I was only 3 months old as I was in a magazine for pregnant women, babies, children in the 'Eye of the World'. When I was one, I appeared in magazines, at 5 I was doing theatre and at 7 I got back into modeling as a career, but not before doing my first film 'The River in the Mountains' at age 9.
As I grew, I appeared in campaigns for designer clothes, which my mother helped land. Now, I have graced magazines such as Elle and Maxim, and have won competitions such as Miss Universe and Playboy Lingerie.
You've lived in quite a few countries. Which has been your favourite and why?
Yes, I have lived in several countries, but it really depended on where I was working at the time. I think the country I like the most is Poland, as it was my homeland and I started my career there. But of course, I am not saying that other countries I do not like. Each country is special in their on way to me.
What 5 words best describe you?
Eloquence, adventure, funny-crazy, fearlessness and maybe lovely. Only because everyone calls me lovely, so it's probably true, but I really don't know.
How and when did you get into modeling?
I started to take modeling seriously in 1997, and only by luck. I wanted to be a model since childhood! That helped me and my cousin Keira has helped me a lot as well.
What are you most proud of in your modeling career?
I'm most proud of my achievements, and the position I've been able to put myself in so I hope that it will continue in the future.
You mentioned your real name is Banyka Dipell, but in modeling/acting, you're known as Monika Pietrasinska. Why'd you pick the name Monika Pietrasinska?
Monika Pietrasinska is the name I chose, because the name Monika was one I always like and the surname Pietrasinska was because my mother's maiden name was Pietrasinska.
On some websites, it says as Monika, and it says youre born on December 2nd, 1987, while your real verified official Facebook profile as Banyka says November 28th, 1990. Why is there a discrepancy?
In Poland, when you model, you start at a young age, and your biography and everything else, is all made up with a purpose. I was Monika Pietrasinska, born in 1987. The reason why their birth year is different, is because I started so young that fashion magazines and advertisements did not want to hire me because I look old enough. So my colleagues and other people came up with a way to 'add years to me' lol. I was actually born in 1990.
Well then… You're referred to as 'The Famous Polish Model' and are adored back in Poland, which you attribute to the fact you come from a very famous and wealthy family. What do you like most about being famous?
I love all the countries in the world, but Poland has been my home since childhood. I have so many friends there and have become very well known. But being famous does not mean everything to me. It means I have conveniences that allow me to afford to buy certain things I like, but it does not mean everything in my life. Fame and fortune is nice, but the most important things in my life are family, health and happiness.
You asked what I like most about being famous, but that's difficult to answer. Maybe it's the fact I know a lot of famous people, but I highly appreciate all of the people I know that are amazing in my life.
Your father is a famous actor, politician, cabinet minister and owns many banks, hotels and apartments and it's said he's a billionaire. Your mother is a fashion designer, actress and dance teacher. Was it a little overwhelming coming from such a successful family, or do you feel it just pushes you to better yourself?
My parents are famous as well, yes, but I don't feel as if they ever pushed me into something I did not want. They always gave me their full support every step of the way in life. To my parents, I am, was and always will be very thankful.
How did your family respond to you posing nude for Playboy, and in numerous sets with see-through lingerie?
My parents are always aware of what and when I've modeled for magazines such as Elle, Maxim, Playboy and Lingerie. But they also know that when I have a shoot, I have to reveal my body and show it. Initially my father had some problems with it but after a while, he's gotten used to it, haha
You seem to enjoy posing with your clothes off, more than you like to with them on. Why is this?
Because that's when I feel my sexiest ; )
You've been linked to Channing Tatum in the past? What is he like? Since every woman wants to know, was he good in bed?
Yes, Channing T. and I previously had a relationship and he is a great man inside and out. The idol of many women… so in bed, of course he was great! I'll always praise him… hahaha
You've also been in the news for dating Jean Claude Van Damme, Michael Bailey Smith, Robert La Saldo, Akon, Jay Sean, Chad Murray among others. Are you still as close with any of them as you are with Channing?
I am in contact with each one as we are very good friends still to this day. We were together, and broke up, but only in a good way. The ones I see the most are probably Jean Claude VD and Michael Bailey Smith.
What do you feel separates you from the rest of the models in the industry?
I will not speak for any other model, or why I am better or worse because each and every girl or boy who decides to model excels at something.
If you wrote an autobiography, what would you name it?
Banyka Deborah Dipell – My Story … In my auto biography, I would like to tell all of what has happened. I have had many beautiful things happen, but also some bad, to which I would like to speak on and not forget.
What kind of music do you listen too?
I love music of all kinds. I do not care for the style of music or voice. I go by the slogan: "Without music you can not live".
If you could have three wishes, what would you ask for?
I don't need three wishes! All I'd need is one, and I'd wish for a genie like Aladdin had… haha ; ) and he would fulfill my every wish!
What do you like most about your body? What do you think men like most?
On my body, I like my curves the most. Also that I can eat like an elephant, but my body won't see any changes ; )
I think men like everything about a woman's body. It's human nature. But not every man is the same, some just will stare at my big boobs, my ass, lips etc. But some men are looking for something very different in a woman. They see women have inner beauty that outshines their body! So it really depends on what type of man is looking at my body.
What turns you on?
Haha … I really do not know. Maybe if I look long and deeply into a man's eyes, and he does the same too me.
What turns you off?
People who expect others to change who they are.
Where's the craziest/riskiest place you've ever hooked up with someone?
Normally it's whenever the time and circumstances permit, but no place has been that risky or crazy… So I can't really answer… maybe that place hasn't happened yet? ; )
Do you prefer the top, or the bottom?
I prefer almost always both the top and bottom, but it depends on the situation and guy.
What would be your dream photoshoot?
When shooting, I'm not a difficult model, so I cannot have any dreams about it. My dream became a reality when I became a model.
Wow. Great answer. Where do you see yourself in 5 years?
Good Lord, in 5 years where I see myself? Lol Of course the top model! Haha … just joking! I do not know what my future will bring, next week, next year and definitely not even for five years. But in future I would like to remain in the position I am in within the industry.
What do you have coming up in 2012 that we should watch for?
In 2012, I should be in a whole new collection of fashion lingerie styles in all markets. But the exact date is not yet determined.
That means lots of new colors, interesting sets, hot and sexy for any occasion, which I will also model in fashion shows. I guarantee you it will be very popular and something you also wants to take home. ; )
Only if the model comes with it!! Do you have any final words for your fans and the readers of Lions Den U?
My last words to fans and readers is that no matter who you are, there is something about you that is special and you are not to forget that!
Thanks Banyka, ♥ You're pretty special yourself… As we can see in this 200+ photo gallery of you!!
Wow, so hot! Hopefully all my fans 'like' and 'share' it at the bottom of the feature! ♥
Links from around the web:
Filed Under: Featured • LDU's Monday Morning Mistresses • Women & Relationships
About the Author: TheCoach knows his stuff. Now you can either utilize the knowledge, or regret that you didn't.
Comments (0)