GlennCocoRadio | Apr 05, 2012 | Comments 0
Hey hey (we're the monkeys). Welcome back to, believe it or not, week TEN of LDU Radio. Some people would call us veterans, maybe even champions, but I'll settle for heroes. Jordan was away this week on some hood shit (okay, I lied, he had a midterm) and substitute host and show producer Krystal D'Souza has a bone to pick with him. Well, less of a bone and more of a donut, because his absence left his promise of timbits unfulfilled.
But with Jordan away, the kids will play, and you can either use your imaginations or press play below to see what happens when you stick Nate Black in a room with 2 beautiful women, not one, but 3 webcams and a microphone.
This week's bumpin' beats:
Katy Perry – Ni**as in Paris Live Cover 
Saukrates – A-Yo ft Method Man, Redman
Kardinall Offishall – Husslin
Eight And A Half – Scissors (Tokimonsta Remix)
Feist – How Come You Never Go There (Beck Remix
Tokyo Police Club – Be Good (RAC Remix)
July Black – Set It Off ft Kardinall Offishall
Omar Linx – Little Moment
Ariane Moffatt – Too Late
WTF moment of the Week:
Meg: Woke up to a series of mysterious scratches and bleeds the morning after St. Patty's only to find out later she got them doing a running start cartwheel in heels.
Krystal: Had her phone stolen on the bus. Been there, done that, own it on VHS.
Nate: Minnesota teen Matt Stone didn't have a prom date and used Twitter to score a date, asked 600 porn stars and ended up taking Megan Piper on the condition that he fly her out. SO this genius entrepreneur of a child opened up a PayPal account to raise funds. Unfortunately, this resulted in the prom getting shut down. You're still my hero Matt Stone, if that counts for anything.

Communal WTF: St. Patty's Day Fanshawe riots.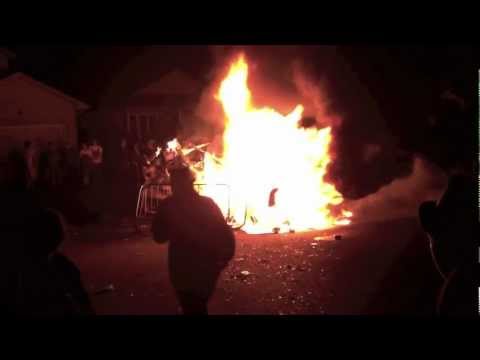 Check out 9 other crazy videos from the Fanshawe riots HERE. 
Movies with Krystal:
Hunger Games — Whether you're a fan of the series or not, these movie adaptations are the next big cultural phenomenon so don't miss your chance to be a part of it! (Hint of sarcasm.)
The Raid: Redemption - Using a never before seen style of Martial Arts, the film has some of the biggest fight scenes since The Matrix.
Deep Blue Sea - starring Rachel Weiss
Listen in to this segment as Nate get's philosophical: "Does art reflect life or does life reflect art?" That's deep Nate, really deep.
October Baby – starring absolutely no one special.
This Week's Hot Topics:
Rob Ford's plan to expand the Toronto subway line. Is it feasible? Jump to 50 minutes to find out.
Making a movie about the making of Psycho (that's so Meta)
Sophia Vergara: What's the deal with that accent?
Pintrest: women using it as a means of getting a ring.
Obama's Keystone Pipeline
Michael Bay is remaking Teegange Mutant Ninja Turtles
Krystal's Facts
OMGFacts: to crack down on gays in the navy, they hired male prostitutes to offer oral sex on recruits to out them (The Newport Scandal) — Roosevelt claimed a memory lapse and never admitted to signing off on the operation.
Celebrity Vote-Down:
Interesting tidbit: Carmen Electra was Nate's first internet "viewing"
Links from around the web:
Filed Under: LDU Radio Show
About the Author:
Comments (0)