NateBlack | Nov 15, 2010 | Comments 6
I like MythBuster's as much as the other guy, but I especially like segments that include nerd girl Kari Byron. Maybe it's her winning smile, sparkling personality, or 34 B rack and 26 inch waist, but she is pretty much the ideal woman. Take notes girls. Get out there and blow something up, and then get in here and blow something up. Double entendre for the win!
Kari made her name on MythBusters, have no media experience previous, as she was an artist and a sculptor before. She landed a job with Jamie Hyneman's M5 Industries by hanging around and pretty much begging (we'd have loved to see that) and eventually found her way onto a segment of the show. They called her back in later to be used as a butt cast (see gallery) and fanboys everywhere demanded she get more on-air time from that point on. You'll notice the edited "nude shot" but it's unfortunately not her. Playboy model Alexandra Sim-Wise, who looks just like Kari and has a wicked British accent, which is sometimes hotter and other times annoying… like the British.
Long story short: If you're hot, you will land your dream job. This is science. Myth Buster Approved.
Check out the video from her FHM shoot.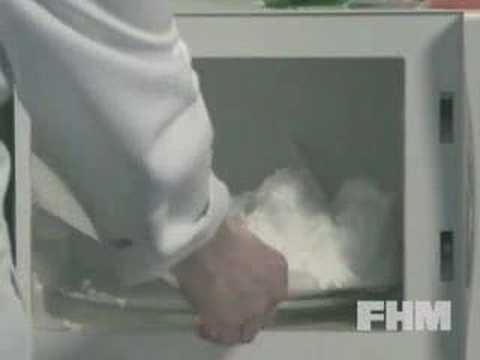 Kari on MythBusters shooting a gun:

Links from around the web:
Filed Under: Women & Relationships
About the Author: NateBlack is doin pretty good as far as geniuses go. Arrogant, insightful, and humble, Nate possesses one of the most dangerous minds of our generation. Stay tuned for More News, Re-Posts, and Originals from this modern day scholar. *If any of you are interested in writing for LDU contact 'Nate Black' via Facebook or nathan@lionsdenu.com*
Comments (6)