JDoorey | Feb 28, 2013 | Comments 0
Friends, it's getting to be that time again! The Jays are back, baby! People everywhere are pumped for the 2013 pre-season and if their first Grapefruit game is any indicator, Toronto Blue Jays are going to have a sensational season. Not only are the Jays stacked with talent, but there is another reason you need to go to a game (or twenty) this season. The 2013 line up has some fine looking gentlemen on it – and by that, I mean DEAD SEXY. Inspired by Jays fan extraordinaire, and LDU faithful, Laura Hildred, this week Jacky's Sass brings you the top ten 2013 Blue Jay Babes. You're a doll Laura – you just increased readership on LDU, and the fan attendance for the Jays this season in one sexy swoop.
If you want to get in on the hotness (…or just want to watch some good baseball) click here for the 2013 Toronto Blue Jay's schedule!
10. Colby Rasmus #28 Center Field
Known to be a wild card at the plate, 26 year-old Colby Rasmus has been signed to the Jays for yet another season. In 2012 he had a .233 batting average – and if you don't know baseball, that ain't good. However, in 2012 he also experienced a career high, by hitting twenty-three home runs. Hey, at least when Rasmus hits it, he hits it right. Ba dum bum. Whatever, Rasmus is so cute that half of us probably don't care about what he does on the field anyway.
9. Jonathan Arencibia #9 Catcher
This half-American half-Cuban catcher can expect an interesting 2013 season, as new pitcher, R.A. Dickey, will test his catching skills at the plate. Regardless of whether he will see the field as much this season, Arencibia isn't letting anything get him down, as he recently showed the world his uncanny impression of Tim Kurkjian, demonstrating that he's both funny AND cute *Sigh*. And as one of the Jay's catchers, he probably has a nice butt from all that squatting. I guess we'll have to go see a game and see for ourselves. (Also check his interview with LDU here).
8. Brett Lawrie #13 Third Base
Not only is this Canadian a highly-anticipated up-and-comer, he's not hard on the eyes either. Whether it's his baby face or his tatted sleeves that have you looking, he's got you one way or another. Lawrie tends to get a little fiesty when it comes to the game. Ever hear about the time he screamed at an umpire over a call? Regardless, one can always expect Lawrie to put on a good show – even if he's just looking pretty.
7. Evan Crawford #46 Pitcher
26 year old Evan Crawford is pretty much Bradley Cooper as a baseball player. Enough said.
6. Ricky Romero #24 Pitcher
Over the past couple seasons, starting-pitcher Ricky Romero has kept Jays fans on their toes. Between injuries and a less than stellar 2012 season, eyes are on Romero this season to see how he will perform. Eyes will also be on him because he's completely adorbs.
5. Drew Hutchinson #36 Pitcher
Starting Pitcher Drew Hutchinson has gone from being one of the Blue Jays greatest prospects, to spending most of 2013 nursing his elbow back to health. It was confirmed in August that Hutchinson required surgery on his pitching arm, and now we don't know when he will be back on the field. Come back soon Hutchinson! We'll definitely miss you.
4. Brandon Morrow #23 Pitcher
Brandon Morrow is yet another player who will be facing changes with the arrival of R.A. Dickey. Changes which may prove to make him a better pitcher. Despite a great 2012 season and a lot expected from him in 2013, Morrow is another Jays player that just loves joking around. Just take a look at his Twitter account (@2morrow23) and you'll see him discussing farts with Brett Lawrie. Two hunky Jays tweeting back and forth? Yes please!
3. Dustin McGowan #29 Pitcher
Dustin McGowan hasn't had an easy few years. The 30 year-old has been injured in one way or another since 2007, and missed the entire 2012 season. We reaaaally want McGowan to come back this season… if only for the eye candy.
2.  Josh Thole #30 Catcher
Aw, look at that face! With the talks of R.A. Dickey getting his own personal catcher this season, rumours are being thrown around that Josh Thole may be that guy; the Robin to Dickey's Batman; the Pinky to Dickey's Brain. What a beautiful Blue Jays bromance that would be. Thole would take the role of the good looking one.
1. R.A Dickey #43 Pitcher

Well if it isn't the man of the hour season! What a cutie! He's got that pick-up truck, singing along to Keith Urban kind of look, doesn't he? Well, he is from Nashville after all. Also, take into consideration that he's a skilled pitcher, who is expected to up the it-factor of an entire MLB franchise = Hawwwwt. Below is a video that will help you get to know R.A, and the famous knuckle-ball that's sure to be the talk of Toronto this summer.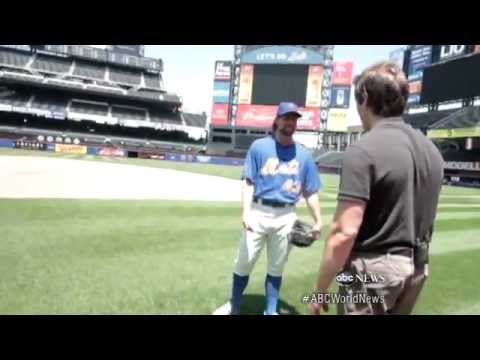 Links from around the web:
Filed Under: Featured • Jacky's Sass
About the Author:
Comments (0)