JDoorey | Feb 21, 2013 | Comments 2
Last Sunday, Feb. 17 marked Michael Jordan's 50th birthday and when one of the greatest athletes of all time turns fifty, the world takes time to celebrate – and man, is there a lot to celebrate. The legend has 6 NBA championships, 2 Olympic medals, 5 Season MVPs, 6 Finals MVPs, 3 All-Star Game MVPs, is the winner of 2 Slam Dunk Competitions and was inducted into the Hall of Fame… whew, I'm out of breath. In honour of MJ's 50th, Jacky's Sass takes a look at 10 of the best Michael Jordan Moments.
10. Space Jam
Okay, we just needed to get Jordan's most obvious and important achievement out of the way- I kid, I kid. But joking aside, Space Jam may not have been an Academy Award winning film, but it did make him a recognizable figure to a lot of kids who wouldn't have known him otherwise. It actually seemed like an odd sort of product placement… I don't know about anybody else, but because of this movie I knew that Michael Jordan was the greatest basketball player of all time long before I even knew what the NBA was. Well played Jordan, well played.
9. "The Jordan Rules" 
One major indication that an athlete is an extreme talent comes when their opposition acknowledges them as a threat, which is exactly what the Detroit Pistons did to Michael Jordan. In the span of 1988-1990 we saw the phenomenon of "The Jordan Rules", which were guidelines to keep Jordan's extraordinary offensive skills at bay.
The rules were quite simple – on defense, the Pistons were to double or triple team Jordan every time he got the ball and, if necessary, foul him on his way to the net. "The Jordan Rules" must have been extremely frustrating, but it also must has to be one of the most validating moments an athlete could ask for. The Pistons may have found a way to slow down Jordan's scoring, but it took three grown men to do it.
8. The Chicago Bulls finally defeating the Detroit Pistons for a spot in the NBA Finals
After three years of "The Jordan Rules", and the Piston's kicking them out of the playoffs, 1991 marked the year Jordan and the Bulls defeated the Detroit Pistons, and advanced to the NBA finals. Up three games to none, in the Eastern Conference Finals series, the Bulls entered game four having seemingly already beaten the Pistons both physically and mentally. After so many years of intense rivalry, the Bulls beating the Pistons, and eventually winning that year's NBA Finals, was the best redemption Chicago and Jordan could have asked for. The Bulls defeated the Pistons so thoroughly that in the final minutes of Game 4, the Pistons left the court early rather than shake hands after their inevitable loss.
7. Michael Jordan… the baseball player?
In 1994, mere months after his first retirement from the NBA, Jordan signed a minor league baseball contract with the Chicago White Sox. Despite not having an amazing season, Jordan still proved that he can do whatever the hell he wants, and still be half-decent at it – even if it's switching sports at age 31, having not played baseball since high school. The best part of the story is that after one season he decided that he had enough, and eventually made his way back into the NBA in 1995.
6. His Final (Game Winning) Shot As A Chicago Bull
Leave it to Michael Jordan to make a dramatic exit. In the final minutes of the 1998 NBA Finals, the Utah Jazz were beating the Chicago Bulls 86-85. With less than 15 seconds left in the game, Jordan – Well, watch the video and see.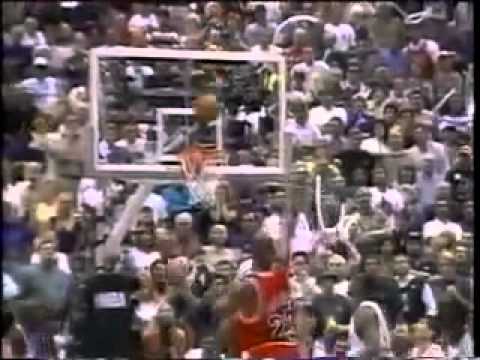 Jordan lived every athlete's dream of winning his team a championship, or their sixth championship rather. Every athlete, from ever discipline of sport, can appreciate his ability to execute under an unbelievable amount of pressure. Jordan once again proved he was the definition of clutch.
5. Eyes-Shut Free Throw
Hey, I love a little shit talk as much as the next person, however, one should always adhere to the general rule that when it comes to talking smack during any type of game – Don't chirp people who are actually incredible. It won't matter if you made the world's funniest, most derogatory comment about one's mother, because points always trump smack talk- Always.
Jordan makes this clear during a game versus the Denver Nuggets when Dikembe Mutombo decides to poke a little fun at him, only to end up being shown up, like a jackass. Never provide Michael Jordan with an excuse to show you he's the bau5.
4. Air Jordans 
Michael Jordan not only ruled the game of basketball, but he is also King of the athlete endorsement. After signing a contract with Nike, the first pair of Jordans debuted in 1985, and marked the beginning of a wildly successful brand. If Air Jordans continue to be as popular as they have been for the past twenty-so years, people will know about Jordan's basketball legacy decades after he's played the game. Imagine it was your name that was able to carry one of the best-selling, and well known brands in recent history – no biggie.
3. "The Flu Game"
Jordan proved his unparalleled skills once again during "The Flu Game". It was Game 5 of the 1997 NBA Finals, and Jordan was diagnosed with the flu – the sweats, nausea, dizziness, you name it Jordan had it. Despite his dire condition, Jordan still managed to score 38 points that game, including a 10-0 run in the fourth quarter that pulled Chicago ahead of Utah, and eventually helped them take the game. Some people are not as impressed with Jordan's "Flu Game", but hell, most people can barely wipe their ass when they have flu symptoms, let alone get dressed and play basketball.
Regardless of the haterade, Jordan's flu performance created yet another memorable moment for his fans.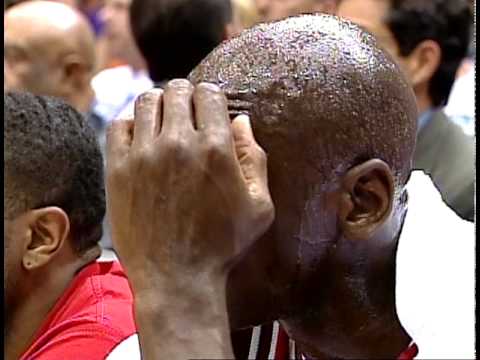 2. The 1988 Slam Dunk Contest (The Jump Man)
In 1988 Jordan faced Dominique Wilkins in the 1988 Slam Dunk Competition, and dayummm was it a good one. The three rounds of dunks came down to a narrow score, but Michael's departure from the free throw line made his final dunk the one that would win him the competition for the second time in a row. This 88′ competition was what birthed Air Jordans' namesake and iconic symbol – the brand embodies Jordan's performance.
1. Jordan's 63 Point Game
In a 1986 playoff game versus the Boston Celtics, Jordan scored an astounding 63 points. After missing 64 games that season with a foot injury, Michael surprised teammates and colleagues alike with his incredible stats. It was that very performance that inspired Larry Bird to say, "I think it's just God disguised as Michael Jordan". Although the game was not statistically Jordan's best, his 63 points broke an all time record for most points scored in a playoff game, a record that has yet to be beat.
Despite losing to the Celtics that game (nobody else on his team did anything), it was a game changer for Jordan's image and career.
Links from around the web:
Filed Under: Featured • Jacky's Sass
About the Author:
Comments (2)