JohnStewart | Apr 19, 2013 | Comments 1
As a WBFF competitor you have to show enthusiasm on the stage at all times, which can mean a lot of exhaustion while off stage. It's hard to find consistency when so much energy is put into competition, but you'd never know with Julie Bonnett, who puts as much exuberance into personal training clients as her own success.
Julie, who grew up in rural Manitoba as a former competitive dancer, began to see and feel the results of weight training at just 17-years-old. She knew she had found her lifelong physical outlet and passion, which ironically was inspired by athletic competitors featured in Oxygen Womens Fitness Magazine's contest coverage, the same magazine she graces often!
Aside from appearing as an Oxygen Model, you may recognize Julie from other magazines such as Status Fitness, MuscleMag, Inside Fitness, Planet Muscle and Muscular Development among others. Bonnett has also had strong finishes in the WBFF and MABBA, as well as winning the Overall Championship Title of Ms. Fitness Manitoba in 2008.
As co-founder and co-owner of ContestPrep.com, Julie and her husband Craig offer online physique consulting & industry-leading contest prep services. They have helped thousands of clients reach their fitness goals, and maintain their dream bodies. Her extensive online influence, as well as media coverage in magazines, television, corporate promotions, and DVD has established Julie and Craig as credible sources in the fitness industry today.
Click Out More Julie At Either:
Contest Prep's Website or Facebook, or her Facebook, Fanpage, Twitter & Model Mayhem
**** ALSO CLICK HERE TO VIEW ALL FRIDAY FITNESS FEMALE FEATURES  ****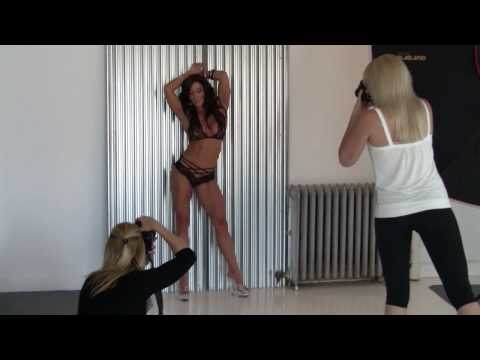 Interview with Julie
Who are you?
Thanks for reaching out to me for this interview! I do make an effort to share as much of my life and experiences as I can with my fans and appreciate these opportunities!
I grew up in rural Manitoba, Canada, am a middle child with a kind older brother and creative younger sister. We spent most of our downtime with my mother's large French farming family. My cousins and I would Quad wildly around the fields in the summer, and sled down the steep hillside in any extremes of cold weather in the winter. My Grandfather and uncles were avid hunters and fishermen, so I've reached around many skinned deer carcasses to grab Pick-a-Pop from the cooler – and have even hunted small game myself. My mom's family provided a great example for building a strong marriage, as all of her brothers and sisters have long, happy relationships; my own parents included.
My dad's mother is from England and moved to Alberta, Canada to marry my Grandfather after the war. I realize now that I do take after her side – she always had her nails long & painted, dressed in her unique style, loved to go out dancing and enjoyed travelling. It's also fitting that my mom chose to name me after her fav aunt, who lives in Sin City!
Four years ago, my husband and I built a new home in Winnipeg. We travel very often for fitness events and photoshoots. As I was replying to this interview question, we were en route to Toronto, and just 3 days ago returned from Mexico. After this weekend we are home for 10 days then off to the Arnold Classic in Ohio, followed by a trip to Regina, Miami, Montreal, Las Vegas, Vancouver and possibly Spain – all before July!
Wow. Busy. What five words best describe you?
Passionate, Determined, Loyal, Strong and Empowering.
How and when did you get into fitness?
I got started with a girlfriend in my high school's dungeon of a weight room. I had read that bodybuilding was great for keeping fit, and years later took my interest and physique to the next level in competition.
Growing up having been a competitive dancer, how long did you dance for and what genres of dance did you specialize in?
I started dancing almost as soon as I could walk! Ken Peter Dance Studios taught me tap, some Irish, jazz and as recently as last fall I was enjoying Adult Hip Hop with Scott Peter, one of Manitoba's biggest talents.
What is the most challenging part about competing? What do you enjoy most about it?
To be honest, this year the most challenging part of my contest prep has been believing in myself. In past years, I have had a clear vision of how to improve my game to reach my goals. The Pros on the WBFF stage are so unique an different, it's difficult to know what will help me step out of the bridesmaid position and finally be crowned a champion.
That said, it is the pressure of getting on stage in front of thousands of people, and improving year after year that pushes me to reach a level of conditioning that I could never otherwise achieve. I love getting ripped and seeing what my body is capable of. When I'm in contest shape, I feel amazing, energetic, confident and sexy – I am at my best in every way. I feel proud to showcase all my hard work on the incredible WBFF stage.
Can you describe the feeling before taking the WBFF stage?
I put so much pressure on myself before the competition, so I'm a ball of nerves before I go out! Surprising, I'm sure, since I'm entering my 7th season of competing. 7 is my lucky number, btw! ; ) Once I've hit the stage once, it's all fun all day – the hard part is over.
How did you feel being Crowned Ms. Fitness Manitoba?
What an amazing moment! I worked so hard that year, and overcame serious injuries only a week before the show, so I was feeling confident and proud. I love the calm that comes with knowing you truly gave your all, held nothing back and have no regrets. The crowd was on my side, and I had many friends & family there to share my victory with – most of all my amazing guy! Craig had stood on the same stage 2 years previous, to experience the same success, as he won Mr Manitoba on his first try!
Having been inspired by the models and personalities that grace the pages of Oxygen Magazine, did you ever imagine in your wildest dreams it'd be you who other women would look up to and aspire to be like?
I am living the dream, and thankful for my good fortune everyday! It is an honour to be considered a role model, and I do my best to share my success with my fans, and strive to support & inspire them in reaching their goals!
You've also been featured in Status Magazine, MuscleMag, Fit & Firm and was featured in Inside Fitness' IFM Hot and Fit 100. Are there any magazines or websites you've like to grace the pages of?
I appreciate all the opportunities, and do still have big goals to achieve in the fitness industry, and in mainstream media! I enjoy the challenge of modeling different looks, so I would be excited to be part of many different publications, and open to furthering my career.
Can you tell us about ContestPrep.com?
My husband, WBFF Pro Bodybuilder Craig Bonnett, and I have worked hard to develop our business, ContestPrep.com – an industry-leading physique consulting and online personal training business. We constantly dream up new ways to motivate & inspire our clients, including helping hundreds of athletes prepare for stage and even more general public clients reach their fitness goals.
Both my husband and I have accomplished so much in our personal competitive careers, including Overall Titles, Pro Cards, magazine features in Status Fitness, Inside Fitness, Oxygen Magazine and WBFF Fit & Firm Magazine, however I am most proud of us for finding ways to share our knowledge, experience and network with others.
What gave you and your husband the idea to start ContestPrep? How can someone contact you if they're interested in yours or Craig's services?
We felt there was a need for a more professional and organized way to prepare for physique competitions, and were inspired to combine our knowledge and individual strengths. Check out our Client Transformations and Success Stories to be inspired by everyday individuals who used our lifestyle tips to reach their fitness goals! We also celebrate our ContestPrep.com Competitive Champions & Models on the website – we are proud to be able to help our clients develop award-winning physiques if that is their dream! You do not have to be focused on a competitive goal to train with ContestPrep.com, but this is very much our specialty! Please send an e-mail to info@contestprep.com if you are interested in applying for acceptance into our program!
What separates you and Craig from the rest of the companies who are doing similar things prepping competitors?
Together with my winning professional bodybuilder husband Craig Bonnett, we have introduced hundreds of athletes to the sport of bodybuilding & fitness modeling through our successful training business, ContestPrep.com. My experience on stage, background in dance and recent gymnastic training enables me to work effectively as a bravado coach with every athlete – from fitness competitors developing dynamic routines, to bikini models striving to release their inner diva on stage! Craig is a true conditioning specialist and his expertise expands our range even further into bodybuilding.
What part of your body do you take the most amount of pride in?
My bum! It was my problem area, and now it's what I'm most complimented on.
What is the hardest part of maintaining such a fabulous figure?
There are never enough hours in the day! My competition conditioning is the result of 100% effort in training & diet, and sometimes my energy is demanded elsewhere.
Can you describe what your own personal diet plan is like?
I admittedly eat low carb when dieting for a show or big photo-shoot.
Meal 1: Chicken Breast or Lean Beef with 3 Egg Whites and Fusion Omega Oil
Meal 2 is (Pre workout) Protein Shake with Glutamend, SubQ and Purple K and Veggies
Meal 3: (Post workout) Protein Shake with Glutamend
Meal 4: Chicken Breast or Lean Beef with 3 Egg Whites and Fusion Omega Oil
Meal 5: Salad with lean protein (i.e. Tuna, Salmon, Chicken)
Meal 6: Lean protein (i.e. Tuna, Salmon, Chicken) and Nuts
Do you have a 'weekly routine? If so what is it? 
Right now, weeks from WBFF Montreal in April, I am doing cardio everyday, as well as weights everyday.
- Legs with Hamstring Priority
- Upper & Core
- Legs with Quad Priority
- Shoulders & Arms
- Legs with Glute Priority
- Core & Calves
What type of music do you listen to when you work out?
Anything that is fast-paced, and makes me want to dance! LMFAO, Snoop, Katy Perry, Danko Jones…
Do you have any sponsors?
Fusion Bodybuilding, Victory Therapy, Skechers, Red Bull, Popeye's Supplements Winnipeg, Gym Star Apparel Canada and Vamp Industries
What supplements pre, during or post workout do you use?
I use CLA, BCAAs, Glutamend, Omega Oil, Pre-workout supplements such as Fubar, creatine (Purple K), SubQ at certain times of the year to help my fat loss and energy levels, protein powders, and ALWAYS incorporate a multivitamin to ensure my body has all the nutrients it needs.
Do you feel Fusion Bodybuilding has helped take you to the next level?
Without a doubt. Craig and I are very proud to be associated with such a reputable and professional company and stand behind their products 100%!
Do you feel sometimes the industry focuses too much on sex appeal?
The fitness industry is geared toward adults – everyone wants to feel sexy & attractive, so learning how to achieve that motivates people to make the effort to be healthy. I just want to show my community how much fun it is to be fit & confident.
What are your plans for 2013 and beyond?
I can't see past WBFF Montreal! I want to reach my best conditioning to date – that's my goal this year.
Do you have any final words for your fans and the readers of Lions Den U?
Thanks for being so enthusiastic about interviewing me! I value your attention, and hope I helped inspire a few of your readers to lift a little heavier today. Make me proud!
~Jewels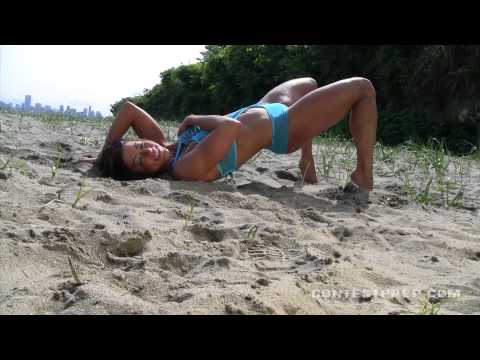 Links from around the web:
Filed Under: Featured • Fitness Female • Health & Fitness
About the Author: My name is JohnStewart. I am a Black guy and I approve this message.
Comments (1)