TheCoach | Sep 14, 2012 | Comments 0
Some things are just meant to be, and Jenna Yvonne McNamara breaking into the fitness industry was one of those things that seemed inevitable. Having grown up the daughter of a Sensei, this blonde beauty is a 2nd Degree Black Belt in Shotokan Karate, with the looks and body of an Ontario Bikini Champion.
A small-town girl with an all-or-nothing mindset, Jenna Yvonne McNamara oddly enough is an acronym for JYM, which is where you're most likely to find her, with a set of dumbbells in her hand in the gym. Known as 'JYM Momma' by her clients, and 'Jenna Yvonne' in the fitness world, it's easy to see how the self-disapline and work ethic instilled in her from such a young age has paid off ten-fold.
McNamara's father, David, is owner and founder of a JKA Smith Falls, a Karate School (dojo) in south-eastern Ontario. From the age of 5, Jenna has been involved in Shotokan Karate, excelling at her kata (routine) much better than kumite (sparring). She's competed at a national level but is now more focused training her clients, as well as competing as a fitness model/competitor.
In her compeition history, JYM has had two 1st place finishes in the Bikini Short Class OPA Ontario Naturals and Bikini Short OPA Henderson Thorne Classic. She's also been featured by Inside Fitness Magazine, and graced the cover of Women's Health Australia.
As a sponsored competitor and model, McNamara relies on Magnum Nutraceuticals, KHP Custom Suit Designs and La Petite Spa, all of which account for how stunning she is on the stage and in the gym.
Check Out More JYM At Her;
Website, Facebook, Fanpage, Twitter and YouTube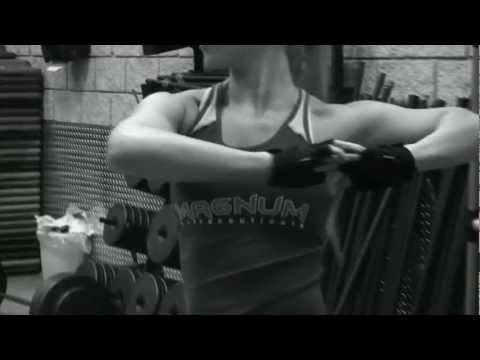 Interview with Jenna Yvonne
Who are you?
My name is Jenna Yvonne McNamara, and I grew up in a small town called Smiths Falls, Ontario. I currently live in downtown Toronto in a condo, and I love how active and alive this city is! It's a funny coincidence that my initials spell JYM (I just realized this about 1 year ago), and now it's become my nickname in the fitness world. I am a Business Owner, Online Consultant, Transformation Coach, as well as an Internationally Published Fitness & Cover Model.  You can read more about me on my Website.
What 5 words best describe you?
Genuine, Honest, Outgoing, Caring, Ambitious
How and when did you become so interested in fitness? 
On New Years Eve 2009, my friend suggested that I do a fitness competition because I looked marketable and I was a very outgoing person. In order to commit to such a goal, I decided to announce to the entire room that I would do a fitness competition before 2011. On January 1st 2010 I quit my bad habits (drinking, smoking) and began eating clean. In the healthiest way possible I was able to lose 40 pounds of unwanted fluff and get lean enough to compete onstage in a bikini. I placed 2nd out of 30 girls in my first bikini competition (October 2010), and since then I have been addicted to fitness and the "eat-clean" lifestyle.
You have a 2nd Degree Black Belt in Shotokan Karate. How long have you been practicing, and how does Shotokan differ from other styles of Karate?
I started training under my father Sensei David McNamara when I was five years old and have taken a break over the past few years, now only training on occasion when I visit my hometown. When people hear the term KARATE they often think crazy spin kicks, breaking boards and nun-chucks. 'Shotokan' means the way of the hand & foot. It is a very traditional martial art that originated from Japan and there are no weapons or objects used when we train.
He just started up a 'Combat Cardio Conditioning' class too which is great for the town of Smiths Falls.
** Click HERE for her Dad's website **
Your father owns a Karate School (dojo) in your hometown, and you've competed in tournaments at both provincial and national levels within SFJKA and CJKA. How'd you like fighting? Can you explain the rush?
To be honest, I enjoy doing my kata (routine) much better than kumite (sparring). I was never one to fight but I always managed to do well in tournaments and usually stayed pretty calm before fighting someone. I do recall once when I was about 14 years old, I was fighting a boy and I broke his nose (he should have blocked!) Also, when I had to test for my second-degree black I fought against my Dad who is fifth degree black belt. He warned me before we began that I was 'no longer his daughter for the next 10 minutes' lol. Boy, was I was in for a rude awaking! He knocked me flat on my butt, but I just bounced back up and refused to give up. They passed me, not necessarily because I "won the fight" but mainly because I had the mindset and attitude of a true black belt. I REFUSED TO QUIT. I've never fought so hard in my entire life!
You ever get the urge to throw down when someone pisses you off? : P
I think everyone has definitely visualized it at some point! (I have never acted on it.)
You're a fitness and lifestyle consultant, and your name is an acronym for JYM, but your clients call you 'JYM Momma', why is this? 
We all need someone to hold us accountable for our actions and our results. My clients call me 'JYM momma' because they look up to me for accountability, guidance, motivation & support. I guess it's similar to how children look up to their parents! My extended family consists of 30+ women are all depending on me!
How strict is your diet? What does it consist of?
I eat similar year round whether I a competing or not, however closer to a show I an obviously much more strict with zero slip-ups. I eat a variety of lean protein sources, 2-3 servings of healthy fats per day, fruits in the morning and /or post workout & time my complex carbs based on my activity level that day/week and the body parts I want to grow. My basics or 'staples' include: chicken breast, white fish/seafood, salmon, tuna, steak, eggs, egg whites, Greek yogurt, Magnum Nutraceuticals Quattro (protein powder), quinoa, yams, rice cakes, oatmeal, pumpkin, avocado, almonds, olive oil, asparagus, spinach, Bok Choy, green beans, apples, and berries.
Do you have any sponsors?
Magnum Nutraceuticals, KHP Custom Suit Designs & La Petite Spa.
Who is Karen Phillips and how has she helped you through your competitive career?
Karen Phillips is the owner of KHP Custom Suit Designs and she has been my suit designer since the beginning of 2011. She graciously offered to sponsor me in the Fall of 2011 and now creates custom bikinis for all of my shows & photo shoots. We have had an incredible relationship. She is the best! See her website here!
You also get help from La Petite Spa. How do they assist prior to competition?
La Petite Spa is located in Burlington, Ontario and they take care of my manicures, pedicures, facials & massages leading up to my shows. This is a huge help, as some of my competitions can get pretty costly when traveling is involved.
Do you take any supplements pre, during or post work out? If so, what ones?
I currently use a variety of Magnum's products. LOADED is their Multivitamin that I take each morning along with 1 scoop of PERFORMANCE EDGE phyto/greens. ACID, is CLA product and I take 2 capsules 3x a day before meals. SERUM is their Pre-workout with stimulants & Creatine. I take it before I train (sometimes) if I need that extra boost of energy. Their new Strawberry Lemonade flavor is amazing by the way! DNA is my favorite by far. It is their 'Strength product' containing BCAA's. I take it before morning cardio, pre/post weight training as well as in the evening before bed. QUATTRO Chocolate Love is a 4-stage Release Isolate protein powder. I have 1-2 scoops a day either post workout, with my breakfast or before bed. It tastes incredible and it's my secret to beating my darn sweet tooth!
How often to do you work out? What is an average workout for you like?
I do weight training 4-6 days per week and focus on 1-2 muscle groups per day. A typical split would be:
Day 1: Chest, Shoulders & Abs
Day 2: Legs & Calves
Day 3: Rest Day, or FUN activity
Day 4: Back & Abs
Day 5: Glutes
Day 6: Yoga / Cardio
Day 7: Rest day
My cardio is normally kept to a minimal but I like to keep active by walking often, swimming, rollerblading or doing karate on occasion. Closer to a show I will definitely increase my cardio though and I prefer to do it in the morning before my breakfast.
What part of your body do you take the most pride in?
I would say my glutes. I am thankful that even when I lean down for a show, I always still have a big booty! Lol.
Since you mentioned it, we happened to notice… and agree. You've competed in a number of Bikini Competitions including the Ontario Championships. How do you prep for such an event?
My training intensity is the same year-round, but when I am in competition mode I would never let myself miss a training day and would also increase my cardio quite a bit. I typically do several exercises for each body part, always trying to work it from several angles. If I want to tighten up closer to my shows I do more supersets/circuit based training to keep my heart rate elevated and burn more. I usually still keep my rep range similar at 12-15 reps and I always train until failure. I love doing drop sets as well. When I prepared for both shows last Summer/Fall of 2011 (regionals & provincials) I did my own nutrition and actually felt that was when I felt and looked my personal best. My diet consisted of high protein, a little fruit (morning and/or post workout), 2-3 servings of healthy fats and low-moderate carbs. I would increase my carb intake around my training schedule and on the larger body part training days, I would eat a bit more to ensure I had the energy for my workouts and the food for growth. My nutrition is my strong point as I have learned how to make the dieting part fun.
What's something you've had to sacrifice in order to keep such a great figure?
I have had to sacrifice the same things as many other competitors, such as desserts, wine, or the ability to sleep in that extra 45 minutes. I try not to let competing affect my social life though, and thankfully my friends and family members support my goals. They have learned that I will bring my sexy lunch bag wherever we go, and if we dine out, I will most certainly special order my food and pass on the sweets or the bread basket.
Do you think the fitness industry relies too much on sex appeal?
At times, yes it definitely does. I think each publication serves their own purpose though, as do the models. I just stick to what I am comfortable with and try to portray an image of what I feel appeals to the average woman – those are the people I aim to help.
Outside of Fitness and modeling, what do you do in your spare time for fun?
Of course I make time for fun! I love spending time with my friends and my family. Going out to restaurants and trying new foods, walking around the city with a coffee in my hand and no set plans, dancing, painting, watching movies, relaxing at a spa or at the beach.
Are you motivated by personal goals, or competition?
One of my personal motivations to stay fit and live this lifestyle is because diabetes and cancer both are common within my family history. #1 is that I want to be there for my family as long as possible. Without our health, we don't have much. Living a fulfilling, balanced, healthy and active lifestyle is a priority for me, and it will be for the rest of my life. Whether I am competing or not, I will continue to eat clean and train hard.
What are your plans moving forward? 
When I am not busy helping my clients reach their goals, I am working on achieving my personal best – both physically, & professionally. I will be launching my online store soon, which will include E-books, JYM Workouts, JYM Diet Plans, JYM Clothing, and possibly a few other products for purchase. Many people want to know when I will be competing again, and at this time I am uncertain. If I do choose to compete again, it will most likely be in April 2013.
How can people contact you for consultations and rates for private sessions?
Submit a contact form on my website.
Can you leave readers with a quote, saying or something inspirational?
Here are a few things I always try to remind myself of:
Happiness is a choice.
Excuses are simply problems & every problem has a solution.
Nothing tastes better than how success feels.
Be someone who would inspire you.
Love your life!
You can follow me, tweet or read more about JYM at my Website, Fanpage and Twitter
Well we'd highly suggest following more closely, and not that anyone needs more reason to follow this fit and educated blonde bombshell… but this gallery is convincing as hell!
Photos Courtesy: Jenna Yvonne, Jamie Watling Photography, Darko Dan, Chris V Linton, Liana Saadi Louzon,
Inside Fitness Magazine, Women's Health and Fitness, Team Magnum, Oxygen, Gongshow Apparel,
Focca.ca, OPA, D4Fish Photography, Arsenik, No Excuses.
Links from around the web:
Filed Under: Featured • Fitness Female • Health & Fitness
About the Author: TheCoach knows his stuff. Now you can either utilize the knowledge, or regret that you didn't.
Comments (0)