JohnStewart | Apr 26, 2013 | Comments 1
Ever since we featured Nutri Sups World Wide with a gallery of their Fitness models, we always wanted to featured one of the models who stood out in our minds. We reached out to Jaimie Lynn Bernhardt, and are honoured to announce her as this week's Friday Fitness Female!
Born in Cincinnati, and having moved to Canton at age 10, Jaimie has always been an Ohioan at heart, which is why you'll find her residing in the small city of Massillon, Ohio. Having grown up with two older sisters and a mother who was highly involved in the Bengals Cheerleader squad, Bernhardt always had a knack for fitness, but growing up a tom-boy you'd never have guessed she'd be a complete bombshell.
In college she met her boyfriend John Foster, who was a state champ wrestler for Kent State University, where they both attended. Having always been athletic, he reintroduced Jaimie to the gym and she transformed her body into the beautiful figure you see today.
They attended the Arnold Classic and she was chased down by a major supplement company, and knew from that point on, she wanted pursue a fitness career. So, fast forward to 2009, NPC started a bikini division and Jaimie did her first show, winning her class. Winning a competition so early inspired her to get into modeling, and today the name Jaimie Lynn Bernhardt is known throughout the fitness industry.
Check Out More Jaimie At Her:
Website, Facebook, Fanpage, Twitter & Model Mayhem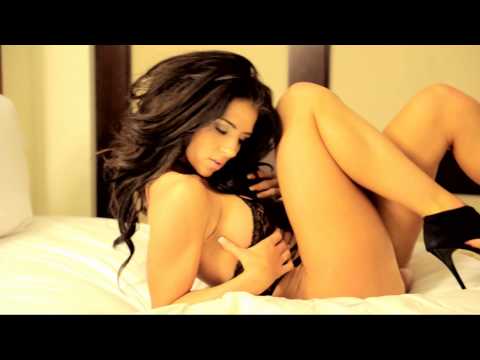 Interview with Jaimie Lynn Bernhardt
Who are you?
Hi my name is Jaimie Lynn Bernhardt, I was born in Cincinnati Ohio and I moved to Canton, Ohio when I was 10 years old. I currently reside in Massillon, Ohio.
What 5 words best describe you?
Loyal, fun, passionate, devoted, loving
Where and what did you study in school?
I went to Kent State University studying Fashion Merchandising
How and when did you become so interested in fitness?
I was in college and was losing interest in the fashion industry. When I met my boyfriend, he wrestled and was also a bodybuilder. I have always been very athletic, but he reintroduced me to the gym and since then I was hooked.
Did you find it hard to balance college and fitness training?
No, fitness training became a lifestyle. You make time for things that are important to you.
You said your first Arnold Classic inspired you to lead a journey into fitness and fitness modeling. Can you describe the experience?
I went to  my first Arnold Classic, and was approached by a major supplement company offering me a modeling opportunity if I gained some size.  I took that offer and ran with it. It changed my outlook of myself, and grew my confidence in my appearance, and self worth.
Are you motivated by personal goals or competition?
I think they are one in the same. I compete with myself everyday and set goals to accomplish everything I set my mind to.
How strict is your diet? What does it consist of?
I think balance is key. I don't believe my diet is very strict. I will eat something if I am craving it. My diet is pretty typical. Lots of lean proteins such as turkey chicken, fish, good carbs such as oatmeal, rice, and sweet potato. It's pretty basic. I do have a weakness for peanut butter and it is very hard to limit my consumption!
What is your workout schedule like?
I workout almost every day. I really enjoy crossfit, so days I am not training certain body parts I do crossfit just to switch it up. I train back and bis. Legs and shoulders. It really changes week to week. I don't want my body to get used to the same routine.
What part of your body do you take the most pride in?
Lately it's been my arms. They have come a long way!!! I never had big arms or have been complimented for my arms, but recently people have come up to me and make comments on my arms. It's an AMAZING feeling to know hard work pays off!!
What's something you've had to sacrifice in order to keep such a great figure?
Nothing, really. I wouldn't have any other lifestyle!
Do you have any sponsors?
I do!! PROSUPPS! They have believed in me from day one. I cannot express how appreciative I am to them. Without PROSUPPS I would not have come this far in my career!! Not to mention they honestly make the BEST supplements on the market, and trust me I have tried them all!! I am also sponsored by P28foods, if you haven't tried their products you are missing out! Ravishsands makes my suits- A TRUE TALENT!!!  And Isolatorfitness, the new ISObag is amazing to travel with all my food!!
What supplements have given you the best gains?
I have always been just a protein and BCAAS kind of girl, until I started taking all of PROSUPPS' products, and my gains are the proof!!!! There is not one product PROSUPPS makes that I have not benefited from. My favorites have to be the Aminolinx, Iload, Karbolic and their ISOlate protein, which has a 90% absorption rate. Oh and all their products taste AMAZING!
What have been your most memorable photo shoots or magazine spreads?
I am honored to have worked with some amazing photographers, but Wendi Satio has to be my personal favorite. She has been such a good influence on me, and has given me the drive to be the best I can be. Not only is she an amazing photographer but she is my mentor and good friend. I truly love her! I have been given some amazing opportunities to be in magazines but recently I shot for MuscleFitnessHERS and it was a stepping stone for me personally to be in such a reputable magazine. It was still so surreal to me!
Outside of fitness and modeling, what do you do in your spare time for fun?
I really do love the outdoors and being with animals. Before my fitness career I was a pet nutrition specialist. Working with dogs has always been a passion of mine. I would love to further my passion for working with other kinds of animals, any and ALL!!!
What advice would you have for women looking to get into fitness, but may be a little intimidated or overwhelmed?
We all have to start somewhere! Ask yourself "Why not?" Fitness is a lifestyle, and it is not easy, but I believe anything worth having in life takes hard work!!!
Can you leave readers with a quote, saying or something inspirational?
Some people feel the rain, others just get wet. – Bob Marley
Thanks Jaimie!! 
Links from around the web:
Filed Under: Featured • Fitness Female
About the Author: My name is JohnStewart. I am a Black guy and I approve this message.
Comments (1)