TheCoach | Mar 22, 2013 | Comments 1
While anyone can be dubbed 'The Fitness Queen' of a city, state or country, but it means nothing unless you have the credentials to back it up. People who are familiar with Diana Chaloux know she possesses all the credentials, to the point where she may be bigger than Kansas City itself. But don't tell her that, because she'll never forget the city and people who've help build her into the fitness icon she is today.
Some of those credentials include ACE AFAA Certified Personal Trainer, WBFF Pro Figure World Champion, FAME Pro Fitness Model World Champion, Professional Fitness Model, Bikini and Swimsuit Model, Fat Loss Expert and Nutrition Manager.
In her first competition in 2005, she attended the John Sherman Classic and won 1st place. That was her 'moment' so-to-speak, where she knew her life was about to change. She continued to compete, won 'Pro status' at the WNSO, only to follow it up with FAME North American & World Championships, as well as the Figure World Champion at the WBFF World Championships  in 2008.
If that's not enough for you, she's the founder/owner of HitchFit with her husband and WBFF Pro Micah LaCerte, which is a lifestyle transformation company. It started back in 2009 with very minimal equipment, and over the last few years they've grown substantially, and now have a team of 12 trainers at Hitch Fit Gym.
Micah and Diana now host the WBFF Central United States Championships in Kansas City, and 2013 will be their third year doing so.  Feel free to contact Diana for any of the following services; Weight Loss Programs, 12 Week Fitness Model Boot Camp, 12 Week Bikini Model Boot Camp, 12 Week Hot Bod Program, Online Training and Nutrition Programs available worldwide, one on one personal training (Kansas City, Mo) Figure and Fitness Model Posing Clinics, Competitor Clinics and more.
Check Out More Diana At Her;
Company, Website, Facebook, Twitter, Pinterest and Youtube
Or Email Her For Her Services: Diana.Chaloux@yahoo.com
Interview with Diana Chaloux-LaCerte
Who are you? 
My name is Diana Chaloux–LaCerte. I'm originally from the beautiful state of Vermont, but I currently reside in Kansas City, Missouri with my husband, Micah LaCerte. We own and operate Hitch Fit, which provides one on one personal training, in Kansas City as well as Online Personal Training programs worldwide. Chaloux is a French name, and I am pretty much French on all sides of my family. I only had 1 Grandfather who wasn't of 100% French descent, and then I married a man of French descent as well!
I am a Christian, I am a wife, I am a sister and daughter, I am an entrepreneur, and I'm blessed to be able to work in the fitness industry that I am so passionate about! I'm also a WBFF Pro Diva Fitness Model, 2x World Champion fitness athlete and author.
What 5 words best describe you?
Passionate, Driven, Fun Loving, Adventurous, Loyal
Where and what did you study in school?
I went to high school at St. Johnsbury Academy in St. Johnsbury Vermont. An incredible school. I went to college at Lyndon State College in Lyndonville, VT. I graduated in 2000 with a BS in Business Adminstration and minor in Psychology.
How and when did you get involved in fitness?
I grew up as an active child, loving sports and always being involved in some type of physical activity. I fell in love with the gym at age 14 when I dated a guy who was on the football team in high school. He invited me to do early morning workouts before school started. I did, and found a confidence in the gym that I feel really helped me gain confidence in myself as a young woman.
I didn't realize that the fitness industry was what I wanted to do for my life until after college. I went to the gym regularly, although I was working a 9-5 office job (which I hated). I'm not a person that can spend a lot of time doing something I don't enjoy, so I started brainstorming to try and figure out what I wanted to do with my life. It occurred to me on a Saturday morning while doing some cardio. It was the gym. That is where I loved to be! From that moment I was on a mission to figure out how I could make a living being in the gym.
About 2 years after that "aha" moment, I had moved to Park City, Utah and attained my first personal trainer certification, from there I wanted to learn more so I attended a vocational school for personal trainers which was in Maui, HI. I learned a LOT during this 2 month school, and felt prepared to launch my training career. Shortly after building a good business for myself in Park City, I received an offer to work for Norwegian Cruise Lines as a fitness director. I was THRILLED as this meant I would be able to do fitness and travel; my two favorite things!
I began dreaming of fitness competing around this time, I became an avid reader of Oxygen magazine, and vowed that one day I would be one of the girls gracing their pages.
I ended up gaining a lot of week during my year on the cruise ship. Although I knew a lot about training, I knew nothing of nutrition. Despite how much I was exercising, all of the cruise ship food caught up with me. I tipped the scales at about 175 pounds when my time on the cruise ship came to an end. This was the heaviest I had ever been and I was miserable.
I moved to San Antonio, TX in 2005 right after I got off the cruise ship. I had another "aha" moment one day while at the gym I worked for there. I finally was tired of making excuses for myself and ready to commit to competing for my first time! 18 weeks later and 45 pounds lighter, I stepped on stage for my first time at the John Sherman Classic, I took home 1st place at my first show and I knew my life was never going to be the same.
I was hooked on competing. I won again at the Ronnie Coleman Classic in 2006 and then went on to Jr. Nationals. I didn't fare as well there, and decided it was time for me to reevaluate where I fit in the industry. I discovered that there were other organizations that now offered Fitness Model categories, which I thought was a great fit for me. I decided to compete with the WNSO and ended up winning my Pro status at my first event. I went on to win the FAME North American Championships in the Pro Fitness Model division, and then in 2008 I won the FAME World Championships in Toronto in the Pro Fitness Model division. Around that time I learned about the WBFF, a Canadian organization where a lot of the women that I admired were competing. I competed with them for the first time at the end of 2008 and won the WBFF World Championships in the Figure division, and took home 3rd place in the Fitness Model division.
I loved this organization, the shows were so much fun, high energy and exciting, and I gained a lot of opportunity by competing with them. I knew that this would be my competitive home!
I have competed with the WBFF ever since, I took home 2nd place in the Figure Pro division in 2009. In 2010 I decided to switch over to the Pro Diva Fitness Model division which is just more fun for me, I took home 4th place that first year, and in 2011 took home 2nd place at the World Championships.
Micah and I now host the WBFF Central US Championships in Kansas City. This year (2013) will be our 3rd year and it has been a blast!
Back in 2005, when you were at your heaviest, what was your 'wake up moment' so to speak, when you realized you needed to change?
Two things happened. First was at the tail end of my time on the cruise ship I stepped on the scale one day, when I saw that it had gone over 170 pounds I jumped off. I was mortified at myself. Then when I got off the cruise ship, I saw my little sister for the first time in about a year. Her jaw dropped when she saw me…and not in a good way. I knew I needed to make some change.
My "aha" moment to actually compete came at work. A co-worker read something I had written where I said I wanted to compete. He came up to me and said, "What are you waiting for?" I couldn't answer that question, so I signed up for my first show that very day.
You've competed in many competitions, but none bigger than the WBFF World Championships '08, where you were crowned Figure World Champion. Can you describe the feeling you had when they called your name?
It felt pretty amazing. I remember crying after that win. I was just thrilled to pieces, and to top it off I got the chance to shoot with Oxygen Magazine for my first time the day after that show. I was on cloud nine.
You've been on NBC and KCTV as a fitness expert. How does it feel to know so many people around the world look up to you?
I feel that it is an amazing blessing. I know beyond the shadow of a doubt that I'm doing on this earth what God placed me here to do. There is no greater feeling to me than being able to be part of the reason for a positive change in someone else's life. This is why Micah and I love Hitch Fit so much, to be able to help someone transform their life is just awesome.
Is there anyone you did, or still do look up to or inspired you through your fitness journey?
Monica Brant was always a major inspiration to me, and I'm blessed to call this amazing woman my friend today. I had the chance to attend one of her FEM camps back before my first competition. I know that her guidance is big part of why I won that day. She gave me confidence. She has not only been my inspiration and a role model, but she has also been a cheerleader through these years, and that is just an immense blessing.
You are an ACE/AFAA Personal Trainer, can you tell us an inspiration story from one of your clients?
Oh goodness, that is tough because there are so many incredible stories to share!  Here is a link to hundreds of these awesome before and after stories, and these are what I thrive on. One of my clients who I had the chance to work with one on one, comes to mind. She had overcome so many challenges in life. She lost her husband in a tragic car accident, and was left to raise their four children on her own. She also owned her own business. After her husband's death, she had just lost her joy in life. 3 years after is when she found me and started training. She wanted to do a competition for her first time at age 48. She came alive throughout the time of her training. I just couldn't have been more proud of her, she inspired me, and when she stepped on stage to the cheers of her children, it was an amazing day.
You're married to WBFF Pro Micah LaCerte. How does it feel having someone who understands competing, the diet, the industry and everything else that comes along with it?
I knew that Micah was the man for me the moment we met at the Olympia 2008 in Las Vegas. We had "met" via social networks and had mutual friends. I thought he was a nice guy, but the moment that we actually met in person I knew I had met my soul mate.
Micah and I are two pees in a pod. We are both passionate about the same things, we are both entrepreneurs, and we both absolutely love what we get to do for a living. We were married in July 2011, and these last few years have been the best of my life. We both feel completely blessed to have found each other. The greatest thing has been that we are best friends. We are together 24/7 which many couples couldn't do, but it is what works for us! There's no doubt that God made us for each other, and for that I am so grateful.
You co-own Hitch Fit with Micah, for those who aren't aware of it, can you tell them more about what it is?
Micah and I founded Hitch Fit in February 2009. Hitch Fit is a lifestyle transformation company, we aren't just about losing weight, we are about teaching our clients how to eat, how to train and how to live in order to get their bodies where they want them to be, and then keep them there for life. We teach people how to change their mind first, then their body and that always creates a positive ripple effect in every facet of their lives.
We opened Hitch Fit Gym in Kansas City in 2009, it started out with just Micah and I and very minimal equipment. Over the last couple of years we have grown substantially, we have a team of 12 transformation trainers at Hitch Fit Gym.
Hitch Fit also provides online personal training programs worldwide. We currently have clients in 65 countries. It is amazing to be able to teach people and have a positive impact on people who we have never met and will likely never meet! We customize our programs. Micah and I are the ones who do all of the online training. We focus on 12 and 16 week programs (longer if weight loss goals are greater), we provide nutrition, workouts, cardio guidance as well as a load of other information designed to educate each of our clients on how to live a fit and healthy lifestyle. The goal is that when they are finished with their program they will know how to live it and will be able to continue on without us! We have walls and walls of transformation success stories at the gym, and it just keeps growing!! HitchFit.com continues to grow at an amazing rate, we share new transformation stores every week!
We offer a wide variety of programs including: Lose Weight Feel Great, Bikini Model Programs, Fitness Model Programs, Build Muscle Programs, Gluten Free Programs, Vegan/Vegetarian Programs, Post Pregnancy Programs, Maintenance Programs and Competition Prep Programs. You can check them out at HitchFit.com .
Where can people learn more about Hitch Fit?
We are also very active on the social networks including Facebook, Twitter, LinkedIn, Pinterest and Youtube. You can find all the links to our pages on the main Hitch Fit website!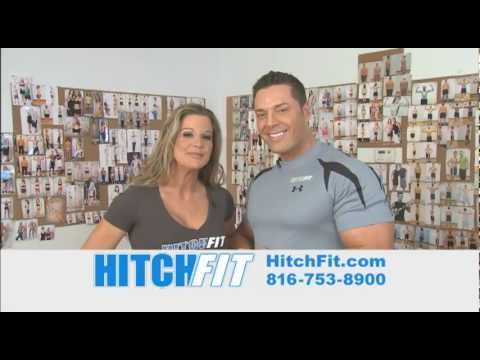 Can you also tell us about 'Destined 2 Be Fit'?
Well every successful entrepreneur typically has a story of a business that failed, and it is usually a learning experience that taught them a lot of lessons! That is exactly the case with Destined 2 Be Fit. This is the company that I launched while living in San Antonio. I jumped in head first to this business, the concept was similar to what we do with Hitch Fit, but I knew nothing about marketing or social media or websites and got in way over my head! BUT I learned a LOT, the business was closed down about 2 years after it opened, I had made so many mistakes, but I'm grateful for the experience because many of the lessons learned from that situation have helped us when making choices for Hitch Fit!
There is no such thing as failure, there is only feedback. The most important advice I can give to anyone who tries something that doesn't work out is to get up, brush yourself off, learn from your mistakes and keep moving forward!
You've also authored a book. What can readers expect to find in it and where can it be purchased?
I actually have three publications now! First is "Hitch Fit: Keys to Transforming Your Life" this is the first book which tells my story, Micah's story and outlines our basic philosophies on training, nutrition and healthy living.
In 2012 I published my first cookbook: "Hitch Fit Living: 100+ Healthy Recipes for Your Fit Life"
My third book will be launched in March 2013, it is titled "A Daily Dose of Hitch Fit: 365 Days of Inspiration". My concept for this book came from my daily devotions that I read in the morning. I wanted to create a fitness devotional, and each day is about something health and fitness related, whether that be an aspect of physical, nutritional, mental, emotional or spiritual health. I'm really excited about this publication, it's something I have been working on for quite a while!
All three books are (or will) be available on our website in the books section, and also on Amazon.com
Are you motivated by personal goals or competition?
I would say personal goals more than competition. I've always been driven mainly by internal motivators, I never want to wonder "what if", and I don't like being afraid of things. If I'm afraid of something, I will typically do it, because then I won't be afraid of it anymore! I'm also motivated by growth and opportunity. This is why Hitch Fit is so much fun, we get to build and grow on a daily basis, the sky is the limit as far as what we can achieve, and that excites me.
How strict is your diet? What does it consist of?
Back when I was competing, my diet was much stricter. During competition dieting I was 100% on point, it just wasn't worth it to me to stray and not be my best. But now that my life is much more balanced, my nutrition is also more balanced. I have an 80/20 rule when it comes to eating. I eat 5-6 meals per day, and I always eat some type of complete protein at each meal, I eat healthy carbohydrates and healthy fats. My favorite carb sources include oats, Ezekial bread and quinoa, and fat sources are usually fish oil, coconut oil or Udo's oil. I eat a lot of vegetables, drink a lot of water,  and I keep a good amount of variety in my foods. I eat clean the majority of the time, but when Micah and I want to eat out or have something special, we treat ourselves! I allow room in my diet for cheats and treats, but overall it feels better and makes my body look better when eating is clean the majority of the time. I keep my body fat and weight in a certain range year round, so I am always very close to where I would physically want to be for fitness appearances. I've found that after years of keeping my body in a certain condition, it is much easier for it to stay where I want it.
What type of music do you listen to when you work out?
All types! I have a very eclectic playlist. Definitely not music that many would think is "cool", I tend to march to the beat of my own drum. I listen to country music, reggae, music from the 80's and 90's, alternative, pop a little hip hop here and there. I like music with a fun beat and I love to sing along so I like good lyrics!
What is your workout schedule like?
At this time of my life I am in a maintenance phase. My goals are to keep my body at a certain place, I'm not trying to gain or trying to lose, so my training is more about feeling good, keeping my heart and lungs strong and maintaining muscle. I do cardio 3-4 days of the week for 25–30 minutes. I either go for a jog outside or I have a stair climber in my home which I use. Sometimes I do steady state, and sometimes I do high intensity intervals.
For strength training I train 3-4 days of the week, and work 2-3 body parts per session. I don't like spending a lot of time strength training, I believe in getting in, getting the work done and getting out, so strength training rarely takes me longer than 30 minutes. I either train at Hitch Fit Gym, or I have a workout area in my home, so I do a lot down there!
I also do a lot of stretching and yoga, I have a Saturday morning yoga class that I attend regularly, and it has become one of the best parts of my training!
What part of your body do you take the most pride in?
My strongest body parts have always been my legs and my abs.
What's something you've had to sacrifice in order to keep such a great figure?
I suppose the "sacrifice" has been not eating a lot of junk, and during the days when I competed, I certainly didn't have much of a social life. But I look at it differently. I think of the sacrifice of not getting to do what I love, and the sacrifice of not being successful if I chose to make poor eating choices. It would be far more painful to sacrifice doing what is in my heart to do.
Do you have any sponsors?
I don't have sponsors. Everything that we do is always about Hitch Fit. I've chosen to spend my time and energy building my brand.
What supplements have given you the best gains?
I'm not big on supplements, and I never have been. I believe in the basics and that's about it. I believe that the best gains are going to come from nutrition and training, not from a supplement. I take a multi vitamin daily, fish oil, BCAA's and Glutamine, and a good whey protein powder.
Where do you see the future taking you, Micah and Hitch Fit?
We've got some incredible things on the horizon! The motto of Hitch Fit is to Believe – Transform – Inspire. We are doing our best to grow the business to get this message out to so many who need it! Kansas City is on the "fattest cities" list for the United States, and we are actively working together with the city now to come up with initiatives to change that. These are initiatives that we plan to grow on a worldwide basis. In the future you will see new Hitch Fit products and services. In 2012 we were accepted into the Helzberg Entrepreneurial Mentorship Program in Kansas City, so we are now working with an amazing mentor and incredible team of successful entrepreneurs who are sharing their wisdom and guidance with us as we build and grow. We both are excited to see where the future takes us!
Can you leave readers with a quote, saying or something inspirational?
"Go Confidently in the Direction of Your Dreams…Live the Life You've Imagined…" – Henry David Thoreau
Links from around the web:
Filed Under: Featured • Fitness Female • Health & Fitness
About the Author: TheCoach knows his stuff. Now you can either utilize the knowledge, or regret that you didn't.
Comments (1)