TheCoach | Nov 11, 2011 | Comments 0
Some would call her a Greek Goddess or the Wonder from Down Under, but no nickname can do justice for what you are about to lay eyes on. She's one of the most recognizable names in the the fitness world, and for good reason. A fit and curvy body, with stunning looks and brains behind it all.
We were raised to think nobody is perfect but we found the exception…
… and the sexiest woman a gym has seen, Christina Halkiopoulos.
Hearing the numbers 34DD-22-24 may lead you to believe at 5'2″ and 100 lbs, Christina Halkiopoulos is nothing more than a bikini model. That would be if you aren't familiar with who she is… And if you aren't, it's time you climb out from under that rock you're under. Yes, Christina has appeared in Playboy Greece (no nudes) and FHM but you've likely seen her gracing the pages of every fitness magazine imaginable.
She's sponsored by Nutri-Sups Worldwide and Muscle Warfare and when you take a glance at the gallery below, it'll be extremely evident why.
Not only does Halkiopoulos have the look to attract the most well known supplement companies in the world, but she's extremely intelligent, having self-taught herself to read, write and speak English.
Christina Halkiopoulos gives new meaning to the word 'Exotic' with her unique combination of beauty, brains, and a picture-perfect body. Whether it's onstage at a competition or on a cover shoot for a major fitness magazine, Christina stands alone as having possible the best abs in the industry.
Be Sure To Check Out Christina's:
Facebook, FanPage, Twitter and Model Mayhem,
as well as Nutri-Sups, Muscle Warfare, Supplement Den and PimpTv.
Halkiopoulos on PiMP Daily Dose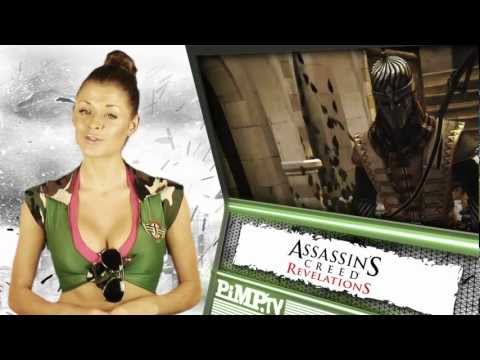 Halkiopoulos Strikes Back with NUKE
Interview with Christina
Who are you?
My name is Christina Halkiopoulos and I'm a fitness model. I was born in Greece, and moved to Australia 13 years ago. I live in Adelaide, South Australia, a coastal city also referred to as "City of Churches".
When and how did you get into modelling?
I started modelling 9 years ago and have been featured in magazines, calendars and on TV. Some of the magazines I've appeared in are RALPH mag (winner representing Sa of "Australia's Sexiest Model"), FHM, Muscleman, IRONMAN Fitness, Zoo, PlayBoy Greece.
What made you decide you wanted to make the transition into fitness modeling and be so fitness oriented?
Everyone probably waiting to hear an amazing story about how, where and when but there's not an amazing story behind mine! I joined a gym 10 yrs ago and 10 months ago Joey from Nutri-Sups Worldwide offered me to sponsor me. I said yes. I did my 1st shoot with George Philippo from www.gpphotography.com.au . As soon as photos went online everything exploded from there!! Muscle Warfare recognized my passion, drive to succeed and ability to motivate others and also offered me to sponsor me as well. They invited me to represent them at Olympia in September this year.
Is there anyone in the industry you look up to or that has inspired you?
I inspire to become the Jamie Eason of Australia. Funny enough, I met her at Olympia and she very lovely! I remember seeing an incredible photo of this fitness girl 6 years ago in a fitness mag and I tore the page and stuck it on my fridge! Jamie instantly became my inspiration and I never thought I would actually meet this woman one day the funny thing, back then I didn't know who she was! All I knew is that I wanted to have a body like "that fitness model"! Only last year I found out her name and who she is in the industry! : ) Also, Rosa Maria Romeo!! Enough said!
What do you find the most satisfying about living a fit lifestyle?
Feeling energetic and having self confidence.
How often/how many days a week do you go to the gym, and what is your average work out like?
I cannot live a day without going to the gym and eating healthy! My workouts consist of almost all weight training (6 times a week), with little cardio unless I'm preparing for a show.
Can you take us through your weekly routine?
Monday: Shoulders, Abs
Tuesday: Legs
Wednesday: Biceps, Triceps, Abs
Thursday: Back
Friday: Light over all workout, Abs
Saturday: Rest
Sunday: Rest  > Cheat meals ; )
How often do you compete in competitions? Do you have any coming up?
Three competitions since 2006 and I placed 2nd in all of them. Future comps? Not sure! Australian Federations need self-improvement… 
Come on over to North America ; ) What is your favourite part of your body?
Tummy! 22′ waist… ; )
Speaking of your body, we've got to ask because most body builders in Canada aren't known for having large breasts. Do they hinder your ability to work out/get in the way at all?
Silly question because most bodybuilders do have breast implants… and mine aren't even that big!! Lol
What does your meal plan mainly consist of?
I don't have a meal plan! I don't have time measuring foods etc!
I always follow a high protein diet that includes mainly kangaroo (very high in protein), chicken, fish, complex carbohydrates, "good" fats and lots of vegies and fruit! Supplements from Nutri-Sups Worldwide also play a vital role in my diet, as I cannot miss our best pre-workout product that pumps me up for every of my gym session!
Can you tell us a little bit about who Nutri-Sups Worldwide is and what they do?
The #1 supplement distributor in Australia and worldwide! Muscle Warfare is their #1 client and well deserved!! I mean, have tried their sups? Extreme!! No need to use to words to convince anyone in terms of results! Pictures speak for themselves! Who ever is reading this, get on M.W.!!
It's well known that steroids are talked about in the sport of bodybuilding. What would you say to anyone who doubts your natural physique?
I just ignore em! I don't waste my time trying to put sense on ignorant people! I do what I do for me and to motivate others, if they see it as negative thing, then something is wrong with them!
For the people in the world who say "I can't" … what is your advice considering you're self-taught in both reading and writing in the English language, which is well-known as the most difficult language to learn…
haha I thought Arabic was the hardest language to learn! Listening is all part of surviving!! I won't let the fact I don't speak English well get in the way of achieving my dreams! I mean look at Arnie!! Similar to him, I had and still have people telling me "you wont get anywhere with that accent, learn to speak"…stupid things like that! They're mocking me on my casual way of speaking also! I laugh at them cause I'm not trying to be something I'm not! So what if I don't have university/college degree! Whatever! My drive and passion for success is my "diploma" in life!!  My survival skills are no match to any college education skills  ; )
DON'T take no for an answer, YOU are in charge of your OWN destiny…
If someone wanted to become more fit, what would be the first three tips you'd give?
Don't talk about it, DO IT!
Get a training partner that knows he/she is doing
Stick to well protein balanced diet + sups (M.W the stack)
What is most fun about working for www.pimp.tv as the main host? (soon to be free on airTV)
Pimp.Tv is THE gaming show to watch! I enjoy special feature episodes where we get to dress up as game characters. I love the fact we get to travel to USA for the E3 Event! It's the best event on the planet… if u are a gamer, you will know what I mean! ; ) yeah I'm a nerd! I love my video games! Dungeon Siege is my number one love!
What is the most difficult part about maintaining such a stunning figure?
So far, so good! I'm lucky with my Greek genes… I have fast metabolism and good muscle memory.
What are your future plans and do you plan on making any appearances in North America soon?
See you all at Arnolds's next year in March! Come and say hi at the Muscle Warfare booth! And my goal is to get the Bikini Pro-Card in the near future! So keep an eye out for me ; )
We definitely have our eye(s) on you Christina! Any final words for your fans and the readers of Lions Den U?
Thanks for taking the time to feature me, and I hope everyone enjoyed the pictures and interview! My fans mean so much to me and without all their support, I wouldn't be where I am today! I love you all and let's continue to spread the love by clicking the like button at the bottom of the gallery : )
Photos Courtesy: Darren Centofanti, George Philippo,
Justin Price, Jason Milligan, JMDigitalMedia.com
Links from around the web:
Filed Under: Featured • Fitness Female • Women & Relationships
About the Author: TheCoach knows his stuff. Now you can either utilize the knowledge, or regret that you didn't.
Comments (0)