TheCoach | Mar 08, 2013 | Comments 0
Every so often we come across a fitness model/competitor and the moment we lay eyes on her, we knew she is the epitome of what the Friday Fitness Female series is about. That's exactly the feeling we got when we found Caitlyn Bellamy, who somehow, with her stunning figure has two beautiful children.
Caitlyn began her fitness journey after seeing her mother compete in a fitness show at the age of 49, and thought "if she can do it, I can do it!" After competing in her first figure show in '08, she was hooked. Some of her competitions include the BC WBFF Championships, the BCABBA Sandra Wickham Fall Classic, and the 2012 Arnold Classic Bikini.
Bellamy also won Miss Hawaiian Tropic Winner & Alberta's Best Bikini Winner  in 2009, and has worked numerous times as a promo model at different shows. Her face, body and personality all scream fit, fun and sexy, which is exactly what the fitness industry is all about.
It's no surprise that Nutrabolics took notice of her, and made her one of their sponsored atheletes. A few magazines took notice of Bellamy took as well, and she's been published in numerous fitness magazines and men's magazines, including Status Fitness Magazine, Inside Fitness Magazine, Physique Magazine, Natural Bodz Magazine, among numerous other features and ads.
Caitlyn and her husband Kaleb co-own Revolutionary Fitness and Nutrition Consulting, offering one on one personal training, nutrition consulting, contest preparation packages as well as online training.
Check Out More Caitlyn At Her:
Website, Facebook, Fanpage and Twitter
**** ALSO CLICK HERE TO VIEW ALL FRIDAY FITNESS FEMALE FEATURES  ****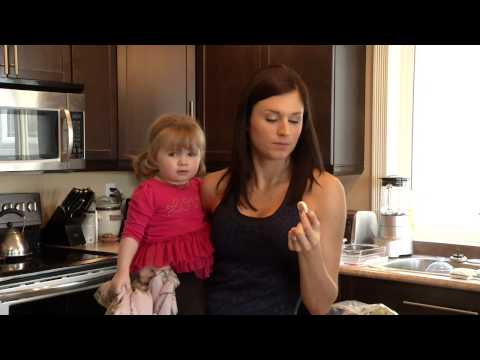 Interview with Caitlyn
Who are you?
Hey, I'm Caitlyn Bellamy, a wife, mother, personal trainer and online fitness coach from Northern BC, Canada!
What 5 words best describe you?
Energetic, loud, crazy, fun, adventurous and FIT!
That's 6, but since you're crazy and loud, we won't argue with you. How and when did you become so interested in fitness?
Well, my Mom actually competed in a fitness show about 8 years ago, so that's when I was initially introduced to the sport, but my husband is definitely the one who turned me into a gym rat! Before we met I hardly worked out, and had just stopped modelling in the fashion industry, so I was very skinny and had little to no muscle. Kaleb showed me that a strong, fit body is much more attractive than looking like a rack of bones. I haven't looked back since!
Are you motivated by personal goals or competition?
Well, I am definitely competitive, but I think a little bit of both. I like to stay lean year round, so I am always setting little goals for myself to ensure I stay on track.
What was it like competing at the WBFF Alberta Championships?
Wow, that was so long ago! 4 years now I think. It was a great experience, and WBFF shows are always a blast. I have made some of my best friends competing in shows!
Having placed 5th out of 52 competitors, you did remarkably well, but finished just shy of your pro-card. What were you able to take away from the experience?
I was honored to have placed so well in such massive class of fit, beautiful ladies. I walked away knowing that if I want something bad enough, I could achieve it. That show was early in my competition career so if I could have had a bit more muscle, I think I would have placed better. Still 5th out of 52 is nothing to be upset about.
Well the reason we asked about a show so long ago, was because it's easy to see where you are today by looking at pictures, but we wanted to make note of the potential you've had right from the get go. As someone who sets goals, do you have any projections on when you'll get your pro-card?
Honestly, I don't know. All I can do is put in the work and hope for the best!
How honoured are you when you see yourself in Physique Magazine, or Inside Fitness Magazine? Do you have any other magazines on your bucket list?
It's pretty surreal to open up a magazine and see photos of yourself, and I am always incredibly honored whenever a magazine chooses to feature me. Yes, there are tons I'd love to be in, but I don't want to say which ones, I will give you a hint though! Starts with an O…
And ends with a xygen?
You're a wife and mother to two children. How were you able to get your figure back post baby?
By keeping fit while I was pregnant, although I definitely cut back the intensity of my workouts. I never stopped training while I was expecting. I ate clean, exercised and only gained 25lbs with both of my pregnancies.
Anyone who says pregnant woman shouldn't work out (within reason as you said) needs to read that answer. 25 lbs is nothing! Hard work pays off! Speaking of eating clean, how strict is your diet? What does it consist of?
I eat the typical clean 6 meals a day, with a mixture of lean protein, healthy fats, a serving of fruit and complex carbohydrates. My diet doesn't differ too much from contest to off season besides a slight increase in carbs, or taking my fruit out a few weeks before a contest. I like to stay fairly lean year round so I am able to do photo shoots with short notice.
What is your workout schedule like?
I lift weights 4-5 times a week and cardio 5-6 days a week depending on if I am getting ready for a show or shoot. Cardio is always done as soon as I wake up on an empty stomach, not because I believe this is the most effective, but because this is usually the only time I have to do it.
As far as weights go I do a back/chest day, arm/shoulder day, a heavy leg day and a lighter leg day which will include lots of plyometrics. I try to train my abs 3-4 times a week as well. I change my program weekly and make sure that I am always keeping my body guessing, to avoid hitting a plateau.
What part of your body do you take the most pride in?
My abs! After 2 babies I still have a six pack. It was a lot of work but in the end totally worth it.
Impressive. What's something you've had to sacrifice in order to keep such a great figure?
Haha, ummm sleeping in? I am up almost every morning between 5-6am to do my cardio before my kids get up. I value my time with my family more than I value that extra hour of sleep.
Sounds like you have your priorities straight. What changes have you noticed in the industry since you got involved? Do you feel they've been mainly positive or negative?
I honestly don't pay too much attention to the politics; I have always had positive experiences with all of the federations I have competed in.
Do you think the fitness industry relies too much on sex appeal?
It depends on how you look at it I suppose. I know lots of fitness models who do not take risqué photos, and have done very well in the industry. I personally enjoy taking the sexier photos; I have had 2 kids and have worked damn hard to look like I do, and I want to show it off (a bit of an exhibitionist maybe?). Nobody has ever said "Hey you should wear this ridiculously small bikini in your photo shoot", it has always been my decision to wear the outfits I do.
Well said. Do you have any sponsors?
I am sponsored by the amazing Canadian supplement company, Nutrabolics!
What supplements have given you the best gains?
Since I am a Nutrabolics sponsored athlete, I am obviously a huge fan of their products. Many of their products have helped me in in my training, whether it is muscle gains, recovery or energy to help push through those early morning sessions. Here is a quick peak at my supplement schedule!
First thing in the a.m. VITABOLIC ™
Pre-Workout: SWOLLEN™
Post- Workout: ANABOLIC WINDOW™
Before bed: a second serving of VITABOLIC ™ and ISOBOLIC™
Outside of Fitness and modeling, what do you do in your spare time for fun?
I am sitting at our cabin getting ready to go snowboarding while I am typing this interview, lol. If I am outdoors I am a happy girl! Snowboarding, trail running, hiking and playing outside with my kids are on the top of my list.
What are your plans moving forward? 
To carry on doing my online training business, and continue inspiring other mothers to make time for fitness! If there is a will, there is a way!!
Contact me at Caitlyn@RFNC.ca if you need help reaching your fitness goals, and check out my website!
Can you leave readers with a quote, saying or something inspirational?
"Strive for progress, not perfection!"
Thanks for reading everyone, and thanks Lions Den U for taking the time to feature me. I'm honoured!
And thank you Caitlyn!
Links from around the web:
Filed Under: Featured • Fitness Female • Health & Fitness
About the Author: TheCoach knows his stuff. Now you can either utilize the knowledge, or regret that you didn't.
Comments (0)