ChristianAndrew | Mar 14, 2013 | Comments 0
Google Glasses are finally here! 
Just in time for St Patrick's Day!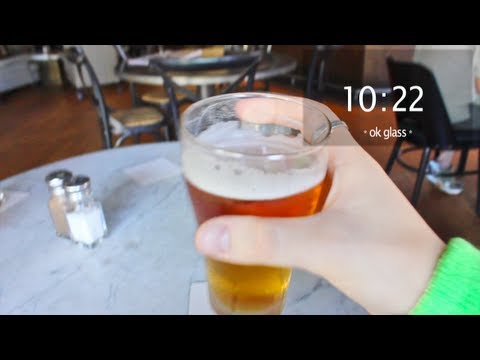 Well sort of, seeing as there are only 8,000 copies going out to rigorously selected applicants and they cost $1500 a piece, which means you are likely shit out of luck if you're looking to pick one up anytime soon. That being said, you can prepare for the day they come on to the "regular people" market by checking out what they've showcased at SXSW this week and by taking a gander at this list of 6 reasons why you should buy one!
(1) Increase your chances of filming a viral video exponentially
You know those dash cams that have helped Russians flood the internet with videos of some of the weirdest shit this world has to offer [FACT: No one is surprised that these videos originate from Russia.] Well, Google glasses will allow you to have your own dashcam too, on your face! What does this mean? This means that every moment of your day can and will be captured. You know the many times that you've either been too lazy to pull out your smartphone to videotape something, or the moment is simply so fleeting that you couldn't capture it? No longer a problem my friend! In 5 years time, videos like this,
will make your poor soul long for the day it considered Oscar the Grouch to be solid entertainment. I'd like to point out that two comrades fighting on the highway has more views than this video of A FUCKING METEOR hitting the earth.
(2) Sex Tape Possibilities 
Well, we imagine that even though filming with the first versions of these glasses will be dead giveaways, eventually someone will start to create knockoffs, and restyled versions which are less conspicuous.  What does this mean? This means more sex tapes! That camera you left on your dresser definitely sets off alarm bells, and leaving that webcam running "by accident" is easy enough to spot, but leave those sunglasses on the counter and no one's the wiser. Downside to this? The likelihood of many more Kim Kardashian-esque careers to come.
(3) Getting high
Just smoked a blunt and want to go for a stroll? How about going for a stroll with your Google glasses on, and bringing your friend via Google chat. Never be lonely again! Except where it really counts, in your heart.
(4) Chores
Need to do something unimportant and mindless but necessary, like clean your disgusting room, move your shit out of your apartment, get through a boring date with your girlfriend or make food so you don't die.
Well, throw your sunglasses on and zone out to a movie champ, because your fancy new bifocals allow you to do sowhile maintaing just enough focus on the task at hand to get by. That's all that life really is isn't it? Ensuring you focus enough just to get by? Well, that's obviously not true… yet… but Google's doing it's damnedest to make sure we really don't ever have to think for ourselves, or even pay attention to "real life" ever again!
(5) Change the way you have conversations with your family
Googles glasses are like having Homer Simpson's ability to space out and enjoy his own world, without anyone wising up to your dickish behaviour.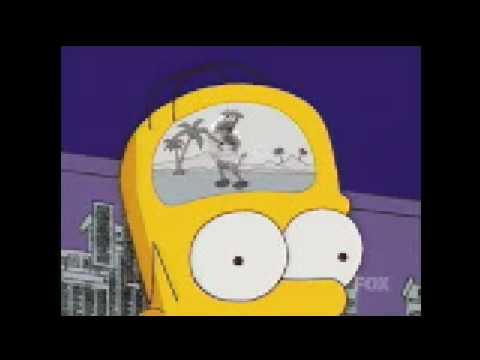 See, while someone talks to you, you could be searching through Reddit to find pictures of funny cats. Now you're thinking, "Well, I can do that already on my smartphone!" Yes, but then you look like an asshole. Now you'll just look like a person wearing sunglasses inside (also an asshole), but at least it'll SEEM like you're paying attention.
Since I find that pretending to give a fuck is 75% of the battle in conversations, Google has just taken 75% of the load off my chest. If Google can just design a personality for me, I'll be all set! By the way, someone needs to explain the internet's fascination with cats to me one day. I don't get it.
(6) Pickup Foreigners With Ease
Remember when you went backpacking in Europe and you told your parents it was to "find yourself"? And of course by "find yourself" you meant "try every drug imaginable, and be blackout drunk for a month."
Well, the thing you learned during your stay in Europe was that guys who spoke the language would get exponentially more female attention than the ones who could not. While you were at the hostel wheeling the drunkest Australian girl in the world, who eventually ended up puking on your shirt, your trilingual friend was teaching that chick from Barcelona the Star Spangled Banner, with his dick. Why? Because he could speak to her! And talking is like 87.5% of the battle. Now, Google's given you a way to even out the playing field by incorporating apps into the Google glasses that will help you translate your stupid pickup line into her language. She'll think that's cute, which will lead her to find out that your penis and whiskey are not a good, as the spanish say, "equipo".
Links from around the web:
About the Author: @itsborys
Comments (0)