TheCoach | May 24, 2010 | Comments 11
Here is the schedule for the Stanley Cup final:
Game 1 at Chicago, Saturday, 8 p.m. ET
Game 2 at Chicago, May 31, 8 p.m. ET
Game 3 at Philadelphia, June 2, 8 p.m. ET
Game 4 at Philadelphia, June 4, 8 p.m. ET
Game 5* at Chicago, June 6, 8 p.m. ET
Game 6* at Philadelphia, June 9, 8 p.m. ET
Game 7* at Chicago, June 11, 8 p.m. ET
Chicago Blackhawks

vs
Philadelphia Flyers
Season Series: Flyers won only meeting 3-2
Loading ...
The Chicago Blackhawks have proved to be the best team in the NHL's Western Conference by beating teams who possess speed coupled with skill, great goaltending, as well as size and strength. Now, they have to beat a team who is full of heart and determination when they face the Philadelphia Flyers in the Stanley Cup Final. The way the Flyers won the Eastern Conference was phenomenal and don't kid yourself thinking they can't give the Blackhawks a run for their money. But can the Flyers beat the Hawks? Ultimately, if the Hawks' continue to play the way they have been, the short answer is no and after reading this preview, you'll see the long answer is also no. In Chicago, it's not a matter of one player doing it all (see Crosby round one), or a goaltender standing on his head (see Halak rounds one and two), but by the entire team playing in unity with a sense of confidence that no team is going to halt their greatness. It's been too long since the Blackhawks have reigned supreme and hoisted Lord Stanley and you can bet they aren't about to let the Flyers stop their dream season. In round one of the playoffs, they faced off against the Nashville Predators and after a slow start (four goals in first three goals), and falling down 2-1 in the series, the Hawks' knocked off three straight to move onto the second round. In the final three games, Chicago combined for 13 goals and stole two of the games in Nashville rink… which would be the first of many road wins. As round two rolled around, the Hawks lost games one and five (on home ice) against the Canucks but won all three games played in Vancouver taking their road-win streak to five games. In the Western Conference final, the San Jose Sharks thought they had finally gotten rid of their playoffs woes but Chicago was determined to silence their opponents (and their fans) by winning back-to-back games in San Jose to start the series.
The Blackhawks steak of seven consecutive wins on the road is so impressive that the team decided to stay in a hotel when they returned to Chicago for game three, keeping chemistry and the sense of togetherness. Well, it worked and after San Jose tied the game to push it into overtime, it was Byfuglien (get used to his name) who netted the game winner sending the United Centre into a frenzy. Game four was no different as Chicago completed the Western Conference Finals sweep with a 4-2 victory.
It is undeniable that Jonathan Toews and Patrick Kane have matured as NHL superstars and in their young careers have lead Chicago into battles over the last two years. Unfortunately Detroit got the best of Chicago last year, but this year is different as not only have Toews and Kane stepped up, but the entire core of their team have all out played their opponent in every way possible. The entire squad have pulled up their socks and done what is necessary to win every night, but Jonathan Toews still needs to get his credit where credit is due. After just turning 22-years-old, Toews is doing what many expect of Ovechkin and Crosby… to lead the playoffs in points. Not only has Toews lead his team, but he's been dominant in the process. While Breire and Richards are somewhat on his heels in points, I'll take Kane and Toews over Briere and Richards for all 82 regular season games and playoffs. Move past Toews and Kane (or say they have a bad game one night), Chicago can rely on Patrick Sharp, Marian Hossa and Dustin Byfuglien to cash in. And is it just me or does Hossa have a REALLY good sense at picking what team is going to make it to the Stanley Cup each year… if he wasn't locked into Chicago and went somewhere next year, it'd be a safe bet to throw down $1000 on his team to win their conference… just saying'. Back to Chicago. There's no question, the Blackhawks have a juggernaut offence that can put up six or seven goals a night, but what they also have that no other team does, is incredible defense paired with that offensive punch. Keith, Seabrook, Campbell, Hjalmarsson, Johnsson and Sopel… you won't fix a better six on any team. Period. The biggest question mark prior to the 2010 NHL playoffs regarding Chicago was if Antti Niemi would crumble and crash, or if he'd be a rock between the pipes. If you've taken the time to read this far in my preview, you're a fan of the game and know damn well that Niemi has been one of the best goalies thus far and is a reason the Blackhawks are contending for the cup. Teams who have won the Stanley Cup in the past have had offence, defense, goaltending, power-play and penalty kill… and Chicago has it all.
The Philadelphia Flyers refuse to make their exit from the 2010 playoffs and have done the unexpected when you consider they had to win the last game of the regular season (in a shoot-out) against the New York Rangers just to clinch their playoff berth. The victory gave the Flyers the slight momentum they needed to knock off the New Jersey Devils, which they did in five games and faster than any other team in the first round. Beating the Devils wasn't that much of a challenge for Philadelphia and even though they took some injuries in the series, the fact other first round series went the distance, gave the Flyers important time to heel. The lay-off was great to get healthy, but the eight days with-out playing a game took away all the momentum that Philly was riding and when their second round series started against the Bruins, it showed tremendously. Boston took an early 3-0 lead in the series before the Flyers won four straight handing the Bruins questionable the greatest collapse in sports history. Everyone, and I mean everyone was saying the Flyers were done, but they refused to roll over and die and moved on to the Eastern Conference Final against Montreal. The Habs had just come off two unbelievable series against Washington and Pittsburgh that both involved comeback wins. So they'd have no problem with the Flyers, right? Wrong! Philadelphia owned games one and two shutting the Habs out in both games, while Leighton stopped all 58 shots that came his way. Game three wasn't about Montreal stepping up their game (evident come game four), but more about the Flyers being over-confident after winning six straight. Montreal took the game 5-1, but in game four, the Canadiens put up a donut (yet again) earning Leighton his third shut-out in four games. Leighton has been unbelievable and stopped 108 of 113 shots in the first four games and without question is the reason the Flyers took a 3-1 lead in the series. In game five, Philadelphia finished of Canada's last hope at bringing Lord Stanley back home where it truly belongs but if you want Canadian hockey players to win the Stanley Cup… start cheering for the Flyers as they are stacked with Canadian talent.
While Leighton has been phenomenal coming off the bench in the playoffs for the injured Boucher, it hasn't only been Leighton that has put the Flyers in the Stanley Cup Final. Considering he's only played half of the playoffs thus far, he can't be
the sole reason but it is undeniable that goaltending has played the most pivotal role in the Flyers historic run. Between Boucher and Leighton, they are both at the top in rankings for goal-against average and save percentage is extremely similar with Leighton completely dominating everyone due to his recent shutouts. If Leighton continues his stellar play, he could lead his team to victory but the rest of the team will have pick it up to beat the Hawks'. The Flyers have relied on defense to beat their opponents thus far and even though Philadelphia has a lot of talent with players such as Briere, Richards, Giroux, Leino, Gagne and Hartnell, they aren't in the same category as Chicago. Even if defensemen Pronger, Carle and Timonen continue to do a fabulous job on the offensive end, the Flyers won't beat the Blackhawks by trying to outscore them. They need to beat Chicago by not allowing them to score as many goals as they do. I know that sounds stupid, but in essence, if the Flyers try to out-score the Hawks' and play Chicago's style of hockey, the series will be over fast. Philadelphia needs to continue to play the same style that got them the Eastern Conference Championship but something concerns me about the Flyers road to the Cup…
Here lies the problem, the teams they beat (New Jersey, Boston and Montreal), are no where near Chicago in talent. By record, New Jersey was tied for 5th best in the NHL, Boston was 14th, and Montreal was 19th (three teams ahead of Montreal in the Western Conference [Blues, Flames and Ducks] didn't make the playoffs). Chicago scored 49 more goals than New Jersey, 54 more than Montreal and 65 more than Boston in the regular season. The Flyers have been playing against teams who are not offensive juggernauts and the reason teams like Pittsburgh and Washington got knocked out by Montreal was because they only have offence, no defense. Not only is Chicago a offensive power-house that no one can stop, they have the best defense in the NHL and although the goals scored against them in the regular season was higher than they would have liked, in the playoffs, Niemi has been the real deal. He's been playing above expectations and the rest of his team has given him a confidence that can only be gained in the playoffs. The Flyers are going have a hard time getting the puck past him, let along getting pucks on him. Trust me. Philadelphia fans have enjoyed their run at Lord Stanley and laughed as Boston fans have sobbed, but it's going to be Chicago fans that will be celebrating their first Stanley Cup since 1961. Enjoy it, championships only come so often as you know oh' so well in the Windy City but I have a feeling it won't be 49 years before the Blackhawks lift Lord Stanley above their heads yet again. This is just the beginning of many for Toews, Kane and company if they can stay together.
TheCoach's Pick: CHICAGO in FIVE
Philadelphia – History Will Be Made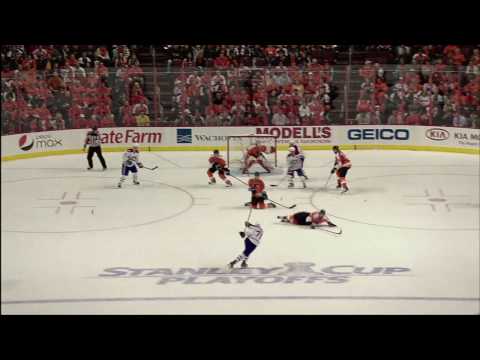 Chicago – History Will Be Made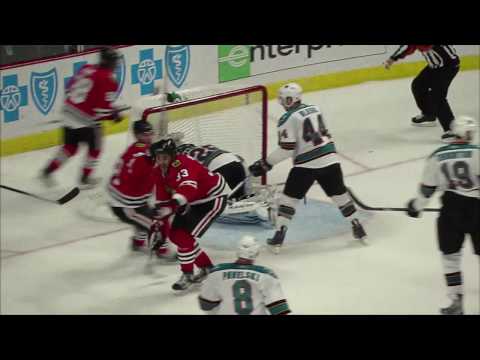 CHICAGO'S LAST STANLEY CUP (1961)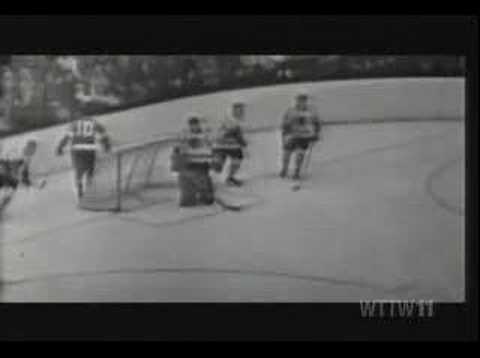 Links from around the web:
Filed Under: Sports
About the Author: TheCoach knows his stuff. Now you can either utilize the knowledge, or regret that you didn't.
Comments (11)